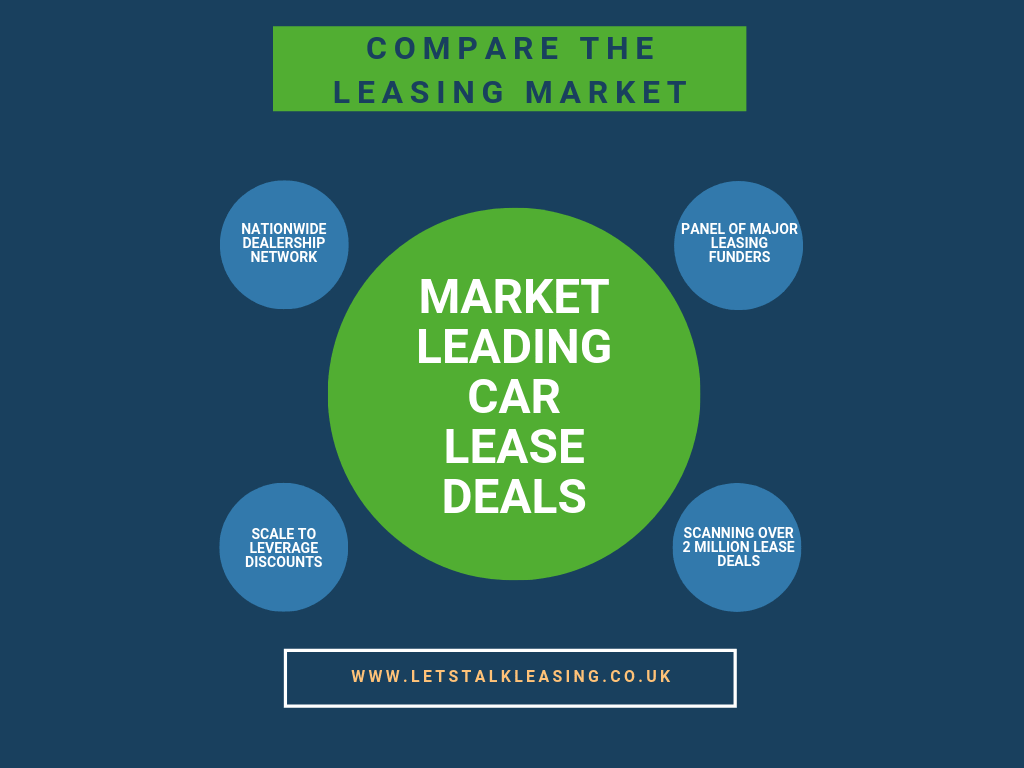 How to Compare Car leasing Deals
There are several benefits to leasing a car but, if you choose to, how do you compare deals that are on the market?

Because of the flexibility car leasing offers, there are plenty of options to choose from.
There are two key ways to compare car leasing offers:
Lease Comparison websites, which do the work for you, or
Researching dealers' offers yourself
When comparing deals, there are critical factors to consider. Whichever way you choose to compare car leasing deals, here are the main questions to ask:
What is the Length of the Car Lease?
Typically, car leases are for fixed periods of 24 to 60 months.
Therefore, you must consider whether driving the same model of car for at least two years will suit you.
Remember, if you end a lease agreement early, you will be subject to financial penalties.
With that in mind, be sure to plan ahead when comparing car lease deals.
How much mileage are you allowed on that deal?
Mileage is another important element; you should think about how much you intend to use the car.
If you go over an agreed mileage, it will incur extra costs. These costs are intended to reflect the incremental cost you would have incurred had you chosen a higher mileage contract initially.
What Will the Lease Package Cost You in Total?
There are different elements that contribute to the total cost of a car leasing package.
Firstly there is the make and model of car you wish to drive.
Choose an upmarket car, and you will pay more.
However, car leasing is a cost-effective means of enabling you to drive a luxury vehicle that you would not consider buying.
The length of the lease in your deal will also determine what you will be paying.
Then there is the size of deposit that you pay, and the monthly payments afterwards.
The larger the deposit you put down, the smaller the amount you pay each month.
A simple formula to ensure you are comparing deals on a like for like basis is detailed below:
Initial payment or Deposit
+ Additional monthly payments X number of payments
+ Any additional administration fee's or document fees.
Simply sum up the above amounts and divide the total by the number of months of vehicle usage.
Also check that your deal comes with Road Tax (Vehicle Excise Duty) included for the full contract. This is a cost which is often overlooked, most dealer based PCP (Personal Contract Purchase) deals will only come with the first year Road Tax included, whereas most PCH (Personal Contract Hire – Lease) deals will have this included for the full contract within the monthly lease.
Car Insurance
You will need to take out fully comprehensive insurance on your leased car before you drive it away.
This needs to be more than third party cover, since that would only pay for damage to someone else's property if there was a claim.
Without the appropriate level of insurance, you would have to pay for any repairs to your lease vehicle at the end of an agreement.
Returning the car at the end of the lease
The condition you return the vehicle in is a vital aspect of a car leasing deal. When you return the car, the wear and tear on your leased vehicle will be assessed.
Most dealers/ finance companies should follow the BVLRA's Fair Wear and Tear guide. Check these first and any other restrictive conditions on returning the vehicle before you lease it.
Do car leasing deals include any maintenance packages?
Car leasing deals come with optional maintenance packages covering:
Servicing
Most repair costs
Replacement tyres and batteries
MOT (if the lease deal is over 3 years)
This might be the reassurance that you're looking for and give you a fixed cost of motoring, but it will add to the overall cost of a deal.
Most lease cars are brand new and come with a full manufacturer's warranty, the length and cover of the warranty varies by manufacturer so get this confirmed before signing your contract. are no more than 12 months old, so fall within a manufacturer's three-year warranty.
However, this will not cover replaceable items or general wear and tear.
In which case, a maintenance package may make perfect sense.
Are You Ready to Choose a Leasing Deal?
Let us know what you want, and we can go through your options for you.
Please call us on 0330 056 3331, email contact@letstalkleasing.co.uk or fill in our online contact form and we'll be in touch as soon as possible.