What does total cost of ownership (TCO) mean in 2023?
The total cost of ownership (TCO) is a financial estimate that considers the long-term value of a purchase.
At its most basic level, it includes the purchase price of an asset – in this instance, a car – along with how much it will cost to run.
It is useful to decision-makers in several ways, not least in assisting with a comparison between leasing or buying a product.
By taking it into account before making an acquisition, they can budget accurately.
An item with a lower total cost of ownership, sometimes called 'whole life cost', represents better value in the long run.
How is TCO calculated?
When it comes to a car, a comprehensive TCO analysis should include all the main costs associated with running it.
That includes the monthly leasing rate, fuel, taxation, maintenance and insurance.
With those numbers, it becomes easier to evaluate different vehicle options.
Calculating its TCO is an effective way of comparing cars because it breaks down the price of a lease to a single figure, something that is especially helpful when looking at an electric model and another with a combustion engine to use an example.
More specifically, the factors that contribute to a car's TCO include:
Company car lease costs
Corporation tax, including leasing disallowance
VAT disallowance
Petrol spend (business miles only)
Maintenance and servicing (a budgeted spend works best here)
National insurance contributions
Vehicle insurance
TCO can also apply to commercial vehicles, and an estimate is more straightforward because the tax regime for vans is less complex.
Looking at just one number, rather than a list of costs under a list of different headings, allows for a clearer focus on value and overall spend.
TCO in action
Here is an example comparing two SUVs from Jaguar, one is the I-Pace and the other an F-Pace: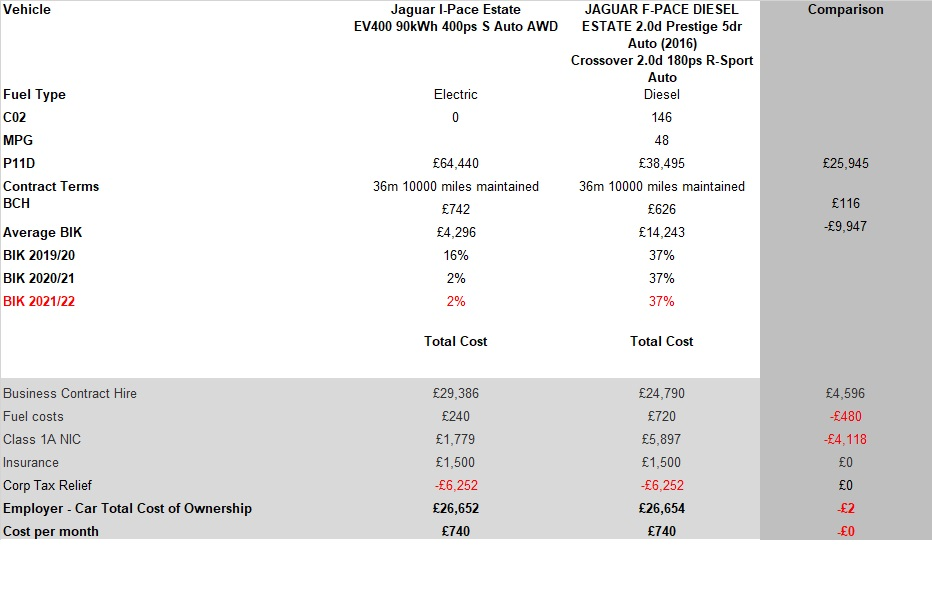 There is a significant difference, £116 to be precise, in the business contract hire (BCH) figures. However, the TCO is identical at £740 per month.
It is now more important than previously for a business to analyse the total cost ownership when selecting company cars because the consequence of a bad decision can be spending thousands of pounds more per vehicle than is necessary.
A car with a more expensive list price, but offers value-for-money running costs and low depreciation can be more affordable.
Our TCO model includes estimates for every quotable vehicle.
Simply let the friendly team at LetsTalk Leasing know what you're looking for, and we'll carry out a lease comparison for you.