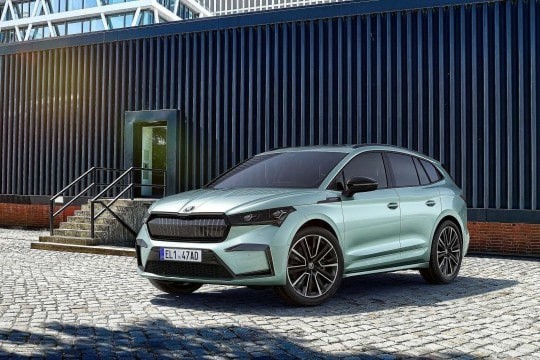 Fleet car registrations down 25% in the year to July 2022 as manufacturers prioritise sales to private customers.
As we pass the halfway point in the year and approach the usual August slow down it's a good time to take stock of the current new car registration market in the UK and as we would expect the numbers are not good reading given the issues around vehicle supply driven by semi conductor and wider supply chain issues.
Fleet Registrations
New car registrations in the UK are down over 11% versus 2021 which is mostly being driven by large Fleet registrations as reported by the Society of Motor Manufacturers and Traders (SMMMT) (https://www.smmt.co.uk/vehicle-data/car-registrations/)
In base numbers there have been 138,000 fewer Fleet registrations by the end of July compared to 2021, as has been well documented this is thought to be due to manufacturers prioritising higher margin private sales with fleet customer left to wait for longer lead times.
Total Registrations
The total number of vehicles registered continues to be lower than 2021 with cars 120,000 behind and commercial vehicles 52,000 behind leaving a total decline of 172,000 across both vehicle types.
Where this leaves us overall is a new forecast of 1.601M car registrations for 2022 which would be the lowest this century and well down from the 2016 peak of 2.693M.
As we see by fuel type Petrol sales remain stable for the last 3 years but Diesel is showing significant decline.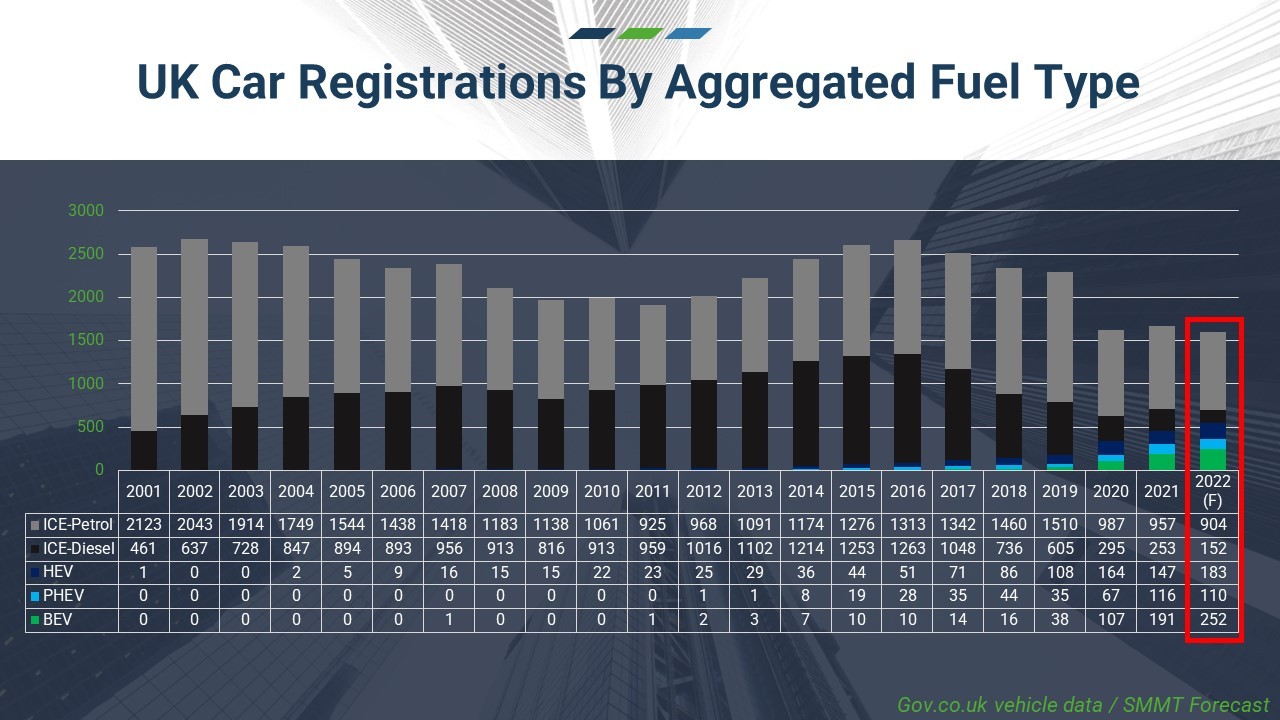 Alternative Fuels
However alternative fuels, Pure Electric and Plug in Hybrid, now make up over 20% of all UK car registrations.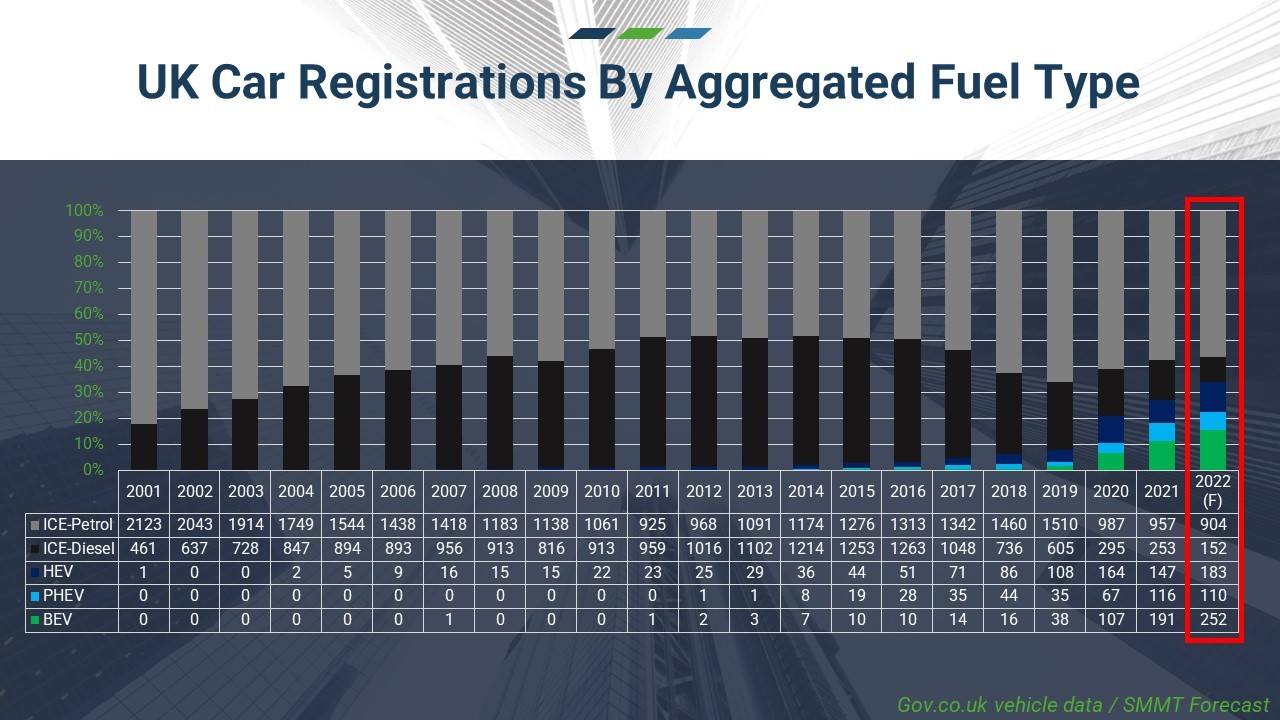 Manufacturer Impact
With total car registrations down 80,000 vehicles there are some clear winners and losers in the manufacturer numbers as the likes of Kia now represent 7% of all UK car registrations, Hyundai 5.2% and MG 3.1%, all 3 represent significant increases in market share.
At the other end Volkswagen market share is down by 2.2% to 7.2% with the VAG Group companies (Volkswagen, Skoda, Audi, Seat) all showing market share declines.
However in total unit sales the old guard of Ford, VW, Audi, BMW still make up 4 of the top 5 in total sales.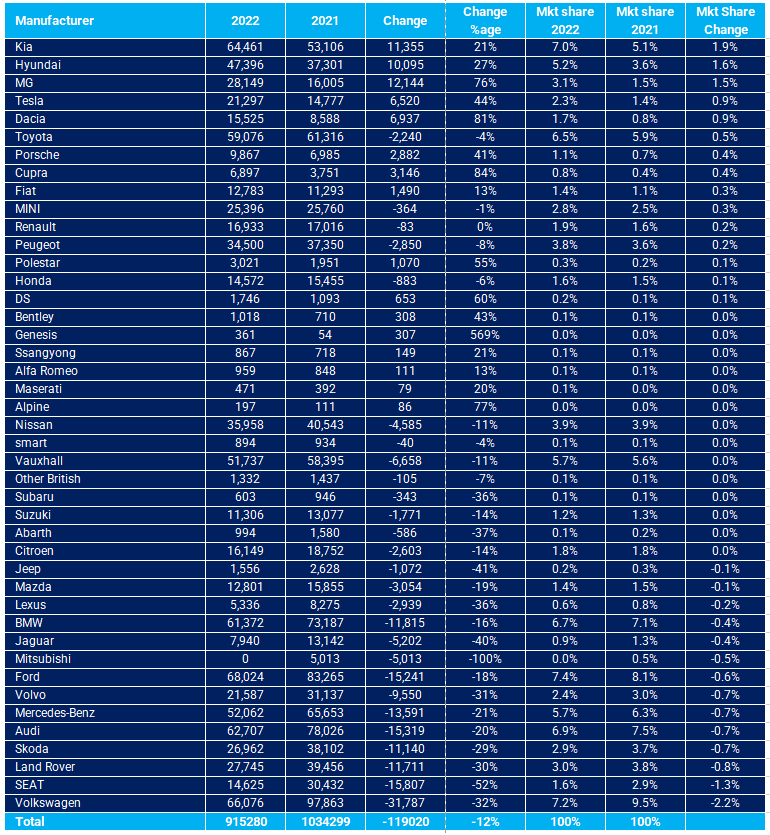 Full Electric Vehicles
This is the year that Pure Electric vehicle registrations (252,000) are expected to exceed diesel (152,000) as we head towards the ban on new Petrol and Diesel sales in 2030 however Petrol vehicles are still expected to represent the majority of new car registrations in 2022.
And Pure Electric car sales are expected to almost double from 191,000 in 2021 to 374,000 by the end of 2023 continuing the trend of the last 5 years and also being fuelled by rising petrol prices and new Ultra Low Emission Zones being introduced nationwide.
On the Commercial Vehicle side it's a completely different story on Electric vans as these represent only 5.4% of van sales this year at under 9,000 units this reflects the lack of suitable vehicles in this space so however this is something many manufacturers are trying to remedy with more Full Electric vans being available than ever now, see availability here.
Summary
Another painful year so far for the motor industry and Fleet segment in particular with 2023 already expected to only slightly improve upon and the 2030 challenge looming ever closer.
For businesses and private consumers its even more important to ensure they are comparing car leasing deals to ensure the best pricing and lead times on their cars and vans.
Here at LetsTalk Leasing, we are proud to be one of the top leasing companies in the UK, you can read reviews from our happy customers on Google here. Browse our leasing car deals online or speak to one of our friendly advisers by calling us on 0330 056 3331.