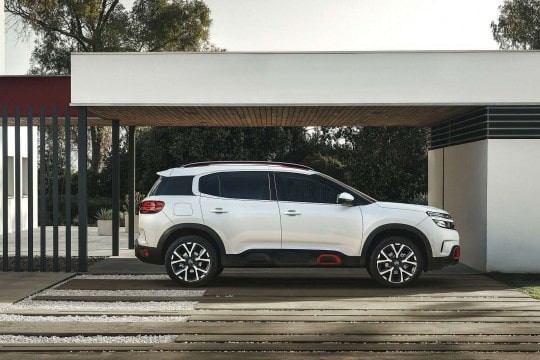 AIR C&C

Citroen aims to deliver a more thoughtful, comfort-orientated take on the mid-sized SUV market with this stylish C5 Aircross model.
Ten Second Review

The C5 Aircross is, according to its maker, 'the most comfortable SUV on the market'. Quite a claim, given that this isn't a large, luxury crossover but is targeted at family buyers currently considering volume mid-sized models in this class like Nissan's Qashqai and SEAT's Ateca. Citroen may be rather late to this party but at least it's trying to bring something new.
Background

The legendary Citroen 2CV had a reputation for being able to comfortably traverse a ploughed field. That apart though, this French brand can't call on much customer recognition when it comes to vehicles cable of functioning off the beaten track. That has to change, given the current European obsession with SUVs and the company is depending on its Aircross range of models to convince customers of its crossover credibility.
The first signs in this regard have been promising for the Gallic maker. The little Citroen C3 Aircross, launched in Summer 2017, has sold well in the small supermini-derived SUV sector. This family hatch-based C5 Aircross will be equally important. Citroen's Head of Product Xavier Peugeot says it brings 'an all-new level of overall comfort' to the segment and there's now a plug-in Hybrid version too.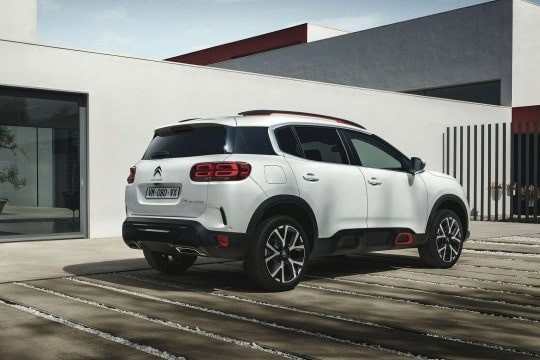 Driving Experience

This car's key differentiating point is the way it glides over bumps. That ability comes courtesy of its Progressive Hydraulic Cushion suspension system. This two-stage set-up features a couple of hydraulic stops on each side of the car, one for compression, the other for rebound.
For major uneven ground impacts, the hydraulic stops work with the springs and shock absorbers to avoid jerky movements and unpleasant bouncing. Thicker softer seat padding also embellishes the impression of comfort. And double-laminated front windows and engine bay soundproofing play their part in reducing cabin noise
Engine-wise, C5 Aircross are offered four engines, a couple of petrols and a couple of diesels. The petrols are Citroen's PureTech 130 and 180 units, the former offered with an 8-speed automatic option that's mandatory for the '180' petrol model.
You can also ask us about a petrol/electric Hybrid version, which combines the PureTech 180 engine and EAT8 auto gearbox with an 80kW electric motor, delivering 225hp of accumulated power and instantly available torque of 320Nm, plus an electrified WLTP-rated driving range of up to 31 miles. The diesels are of the usual BlueHDi variety, with the 130hp version offered with manual or EAT8 auto form and the 180hp variant only as an EAT8 auto.
There's no 4WD system offered, but buyers do get 'Grip Control with Hill Descent Assist', for extra front-driven traction in slippery conditions. There's also Hill Start Assist, to help you starting off up steep slopes. And Trailer Stability Control, to reduce trailer sway if you're towing.
That's about as much as most likely buyers will ever need.
Design and Build

Citroen's Head of Styling Alexandre Malval describes this as an 'assertive design'. It certainly makes more of a visual statement than the last mid-sized SUV that Citroen sold, the Mitsubishi Outlander-derived C-Crosser model. The C5 Aircross is far more of an in-house effort, sharing the same EMP2 platform as the PSA Group's other mid-sized SUVs, the Peugeot 3008 and the DS 7 Crossback. It's 4.5m long and 1.84m wide with a 2.73m wheelbase, so is a touch bigger than cheaper cars in this class like Nissan's Qashqai and SEAT's Ateca.
The brand's signature 'Air Bumps' make an appearance just above the lower side sills, but they're toned down here, just as they are in the latest C4 Cactus.
Inside, that lengthy wheelbase translates into a cabin that feels significantly larger than that of most models in this class. Few competitors can match this C5 Aircross model's luggage capacity either, rated at 580-720-litres, depending on the position of the sliding second row bench.
With that bench folded, there's 1,630-litres of luggage room. Noise touches include an active air quality system that uses an air-purifying carbon filter. Up-front, Citroen fans will note a retro touch in the form of the rolling speedometer, similar to that used on the old 1980's-era Citroen BX, incorporated as part of the instrumentation's 12.3-inch digital display.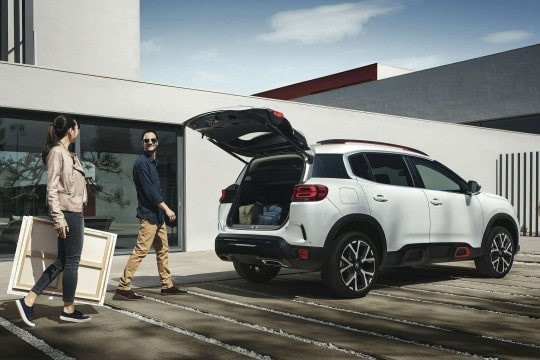 Market and Model

Expect pricing fractionally above this car's cousin, the Peugeot 3008, spread across 'Feel', 'Flair' and 'Flair Plus' trim levels. The interior can be personalised with three ambiance packs - 'Standard', 'Metropolitan Grey' and 'Hype Brown'. There are also seven body colours, all of which can be combined with a black roof.
There are three Colour Packs too, adding contrast-colour elements around the bodywork and subtly underlining the Airbump panels on the lower part of the front doors, the front bumper and the roof bars. Buyers choose between four alloy wheel designs too.
Buyers can specify 'big car' features like a 360-degree camera system and a 'Park assist' set-up, plus you can of course add in things like keyless entry and a reversing camera. Camera-driven safety kit includes 'Active Safety Brake' autonomous braking, an 'Active Lane Departure Warning System', 'Active Lane-Keeping assist', 'Adaptive Cruise Control with Stop&Go', 'Collision Risk Alert', 'Coffee Break Alert', 'Driver Attention Alert', 'Traffic Sign Recognition', 'Highway Driver Assist' and 'Intelligent Beam Headlights'.
Cost of Ownership

Total cost of ownership is highly competitive especially when combined with a stock special offer, the Citroen C5 Aircross Personal Lease deal is a consistent winner in the Personal Contract Hire market for those looking for a cheap car leasing deal in the SUV space.
Citroen's BlueHDi diesel engines have already proved themselves to be efficient and frugal in the brand's other models and that's carried forward here. As part of a re-homologation process, selected BlueHDi diesel engines in the C5 Aircross SUV range benefit from significant CO2 reductions. All 1.5L BlueHDi 130 S&S manual versions see a 3g/km decrease, from 108g/km to 105g/km, whilst the 1.5L BlueHDi 130 S&S EAT8 automatic versions see an even greater reduction of 5g/km, from 105g/km to 100g/km.
Fuel economy-wise, the BlueHDi 130 variant that'll probably be the most popular choice manages around 65mpg on the combined cycle.
Even if you go for the PureTech 130 petrol variant, you'll still be getting well over 55mpg. To do better, you'll need the plug-in petrol/electric Hybrid version. This is WLTP-rated at 166mpg, with NEDC emissions of just 39g/km; and there's up to 31 miles of WLTP rated electrified driving range if you keep it fully charged.
Impressive engine technology also plays its part in this strong efficiency showing. The PureTech petrol models benefit from a 30% reduction in mechanical losses that are due to friction. While the PSA Group's BlueHDi diesel technology is based around a clever three-step after-treatment system designed to better eliminate the four nasty pollutants that diesel units usually put out - namely unburnt hydrocarbons, carbon monoxide, nitrogen oxides and particulates.
Another thing that could help you keep garage costs in check is the affordable three year servicing plan that's available at point of purchase.
Finally, there's the usual Citroen three year / 60,000 mile warranty.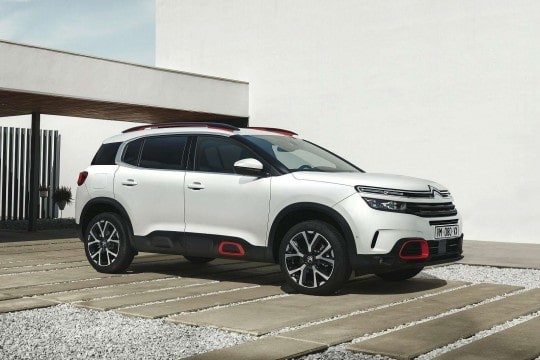 Summary

In an SUV market as crowded as this one, any mainstream product simply has to bring something different to the table. Fortunately, this C5 Aircross can, its progressive hydraulic cushion suspension delivering a noticeable ride quality advantage over obvious rivals.
Some of these handle better, but we think the way that this Citroen cruises over bumps and tarmac tears will be of more interest to likely family buyers.
It'll still remain quite a rare sight on our roads, though the addition of plug-in technology may get this car back on to the radar of likely buyers in the mid-sized family crossover segment. Anyway, it's refreshing to see this Gallic brand getting back to what it does best.
This car stands out as a result. As it very much needs to.