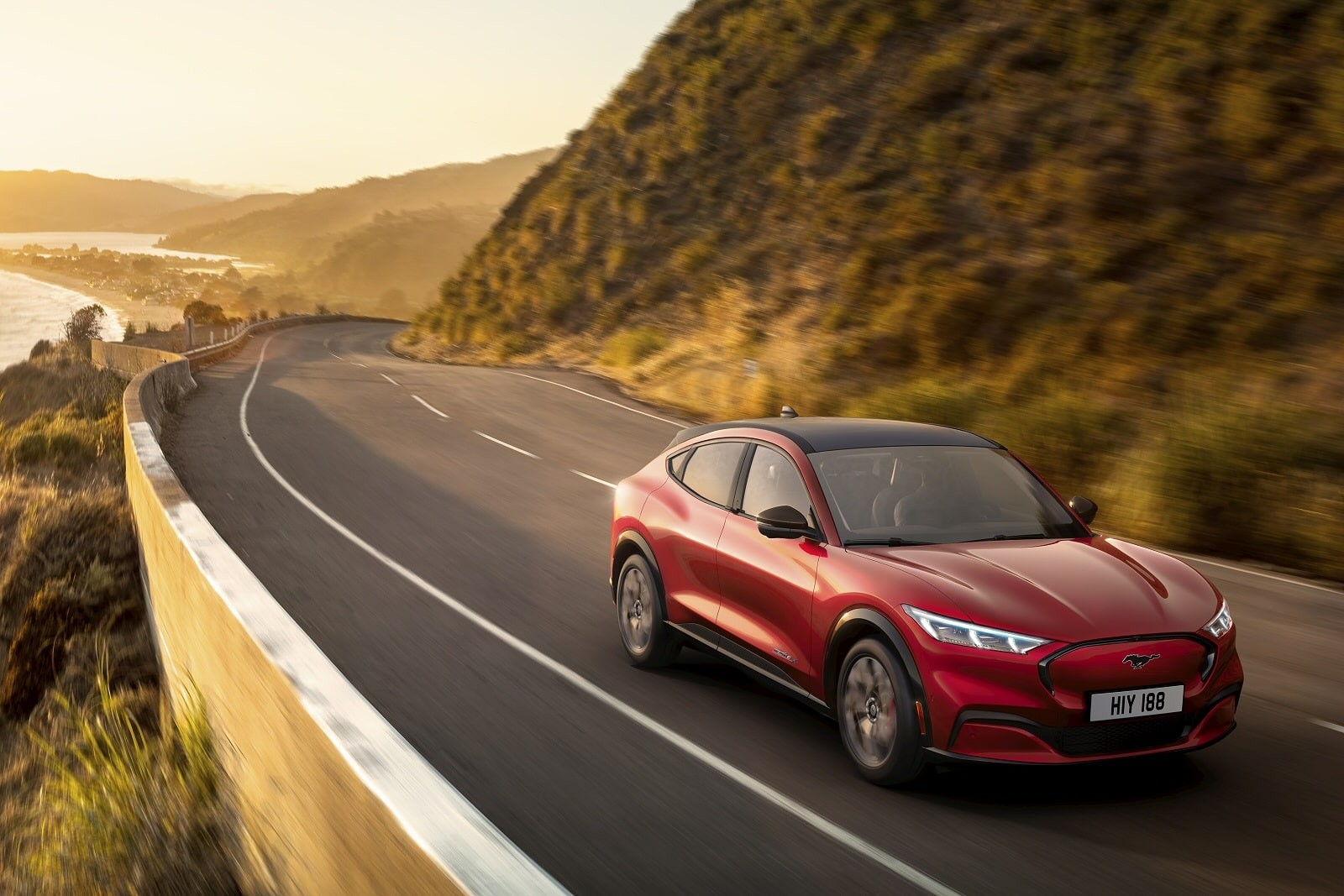 LIGHTNING STRIKE
Ford's Mustang Mach-E should recharge customer interest in the upper part of the family EV segment, thinks Jonathan Crouch
Ten Second Review
Electric cars are often rather dull. But this one, Ford's Mustang Mach-E, very definitely isn't. The use of that famous name - and the styling cues that go with it - has certainly divided opinion, but it's also given this family-sized sporting SUV a charisma its obvious rival lack. Plus if you go for the larger extended range battery option, you'll get yourself an EV offering what is currently the second-longest all-electric driving range on the market. It all sounds quite promising.
Background
It's difficult to think of a much less environmentally-friendly automotive model line than that of the Ford Mustang. Yet this is the nameplate Ford has chosen for the all-electric cars it will make in the coming era, this being the first of them, the Mustang Mach-E. This sporting SUV model is, we're told, about fast, fun freedom and it aims to please a whole new generation of Mustang owners.
The 'Mach' name was apparently inspired by the 'Mach 1' variant of the first generation Mustang and fits with the remit given to the car's creators, Ford's 'Team Edison', who were tasked with creating 'an EV with soul'. Is that what we've got here? You might wonder. After all, this model's supposedly all-new 'GE2' ('Global Electrified 2') platform is actually a revised version of the C2 chassis used in the brand's current Focus and Kuga models. But the product itself couldn't be more different from those conventional cars. As we're about to find out.
Engines and Tech Spec
We've not yet driven a Mustang Mach-E, but the prospects seem appealing. The Mache-E has three driving modes, rather cringily named 'Whisper', 'Engage' and 'Unbridled'. All versions have a top speed limited to 111mph. And there's a single toggle switch for regenerative braking called 'One-Pedal Mode'. The line-up kicks off with two rear-driven models, one using the standard 76kWh battery, which puts out 254bhp and can take you up to 280 miles. The other uses an 'extended range' 99kWh battery pack, which ups power to 281bhp and increases the car's potential driving distance between charges to 370 miles in rear-driven form.
There are also various all-wheel drive versions, which feature an electric motor at each end of the car, with torque applied independently to each axle. An AWD Mustang Mach-E with the base 76kWh battery has a 260 mile range, but ideally you'd want to stretch to the extended-range four-wheel-drive version, which puts out 332bhp, 565Nm of torque, will get you to 62mph in under seven seconds and has a 335 mile WLTP range. If you want more, you can talk to your dealer about a performance-orientated Mustang Mach-E GT model, which puts out 459bhp and 830Nm of torque and makes 62mph from rest in under five seconds. That top version comes with MagneRide adaptive damping. You might need that set-up too because, as with most Evs of this size, kerb weight is substantial, in this case between 1,993 and 2,218kgs depending on variant.
Design and Build
In terms of size, this Mexican-built model is 4,712mm long, 1,881mm wide and 1,597mm high, which places it size-wise somewhere between a Jaguar I-PACE and a Mercedes EQC. Clever styling tricks mean it doesn't actually look that big on first acquaintance, but it is immediately recognisable as a Mustang, thanks to signature elements like its long, powerful bonnet, distinctive rear haunches, aggressive headlights and trademark tri-bar tail lamps. Neat design and engineering deliver surprising rear seat roominess and ample cargo space. There are no conventional door handles: just buttons that pop open the doors. It's possible to use your smartphone as an entry key: or you can use a keypad built into the B-pillar.
Inside, there's an interior nothing like anything you'll have previously seen on a Ford, dominated by a Tesla-like portrait-style 15.5-inch centre free-standing infotainment touchscreen incorporating a lower rotary dial. This works using Ford's latest SYNC 4 operating system that is able to accept over-the-air updates and can quickly learn your preferences. There's also a further 10.2-inch screen in front of the steering wheel for all the main driving gauges. A floating, flip-up armrest doubles as a place to store purses or bags. Two adults can be comfortably accommodated in the back. And there's a 402-litre boot (extendable to 1,420-litres if you fold the rear bench). Plus there's a further 100-litre space beneath the bonnet, which is provided in the form of a drainable compartment which would be good for wet or muddy clothing or footwear.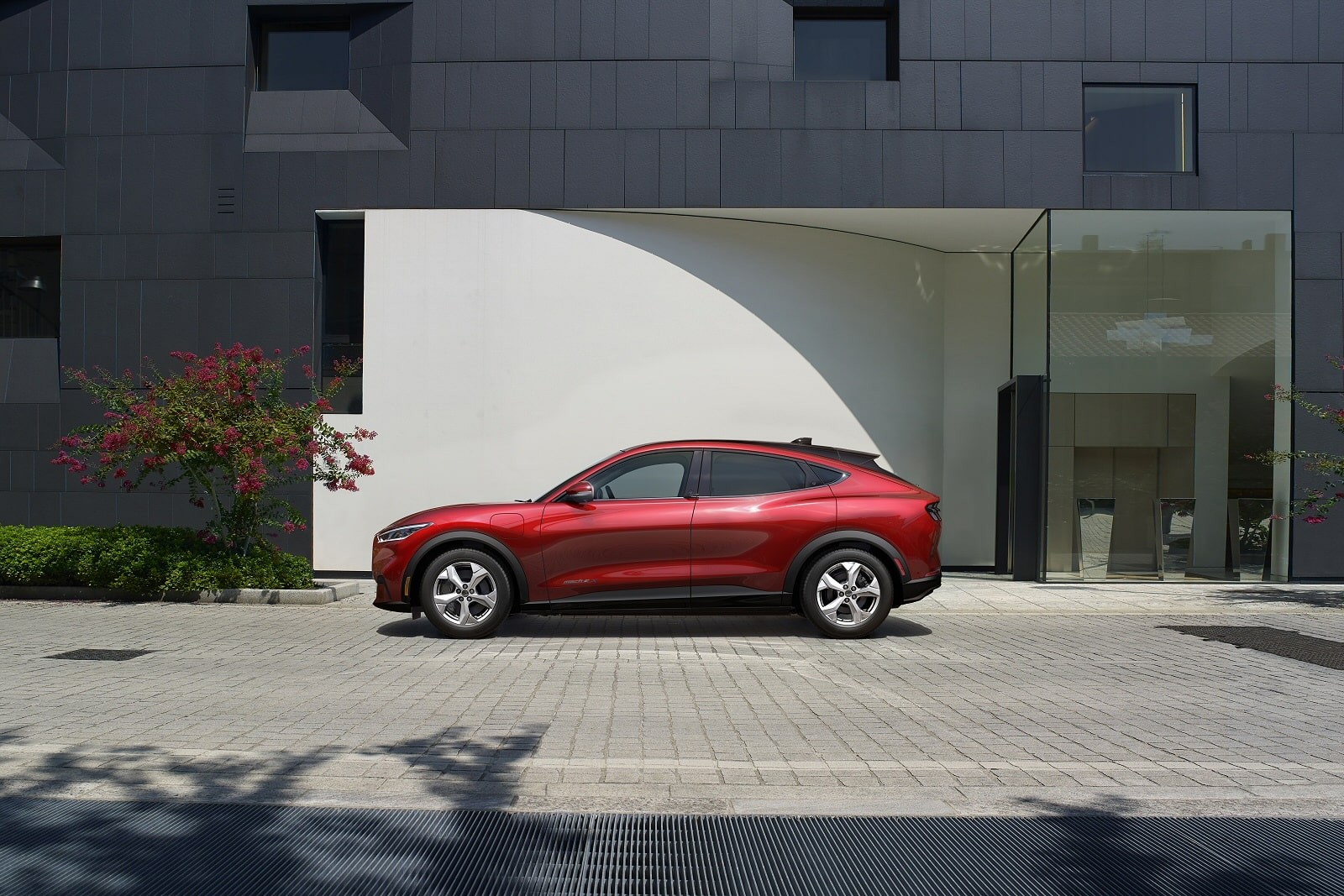 Market and Model
Prices start at around £40,000 for the base rear-driven standard range model: a rear-driven extended range battery model dips just under the £50,000 threshold that enables owners to claim the government's £3,000 plug-in car grant. The top extended range all-wheel-drive model won't qualify for that because it costs around £57,000. In short, Ford is aiming here for the niche that Tesla targets with its Model 3 and Model Y cars: namely that between affordable family EVs (like the Volkswagen ID.3, the Hyundai Kona Electric and the Kia e-Niro): and premium ones (like the Jaguar I-PACE, the Audi etron and the Mercedes EQC).
Options include a panorama fixed-glass roof which has a special coating with infrared protection that helps the interior stay cooler in the summer and warmer in the winter. In addition, an inner layer between the glass helps protect against ultraviolet rays. Also available is a premium B&O Sound System that includes speakers seamlessly integrated across the front, floating above the air vents like a sound bar. A limited 'First Edition' model will be available in extended-range, all-wheel drive configuration, with exclusive 'Grabber Blue' metallic paint, that full-length panorama roof, contrasting seat stitching and a scuff plate marked "First Edition".
Cost of Ownership
As electric vehicle owners do 80% of their charging at home, Ford offers Mach-E buyers a 'Connected Wallbox' option which delivers up to five times the charging power of a typical domestic socket - meaning customers can add an estimated average range of 38 miles per charging hour, based on extended-range, rear-wheel drive configuration. The Ford Home Charge Cable, included with the vehicle, can add an estimated average range of nine miles per charging hour using a typical European domestic outlet.
And when you're out and about? Well with peak charging power of 150kW, a Mustang Mach-E variant fitted with rear wheel drive and the 99kWh extended-range battery could add driving range of up to 57 miles within 10 minutes of charge time on a DC fast-charging station. At the same kind of DC public power point with a standard-range 76kWh Mustang Mach E, you could charge from 10 per cent to 80% in approximately 38 minutes. All Mach-E models come with ultra-rapid charging capabilities courtesy of a Type 2 CCS inlet: the extended range models can charge at up to 150kW, while the standard range battery charges at up to 115kW.
Whatever your choice of variant, the car's connected navigation system will identify up-to-date public charging locations during trips and prompt owners to charge at the most convenient points on each drive - all to help ensure they don't have to be anxious about how much range they have. The brand also gives customers access to the FordPass Charging Network, Europe's largest network of more than 125,000 public charging stations in 21 countries. A Mach-E owner will be able to access any of these and pay for their power from a single account.
Summary
At the first-ever Detroit auto show, Henry Ford said he was working on something that would 'strike like forked lightning': that was the Model T. With the Mustang Mach-E, Ford aims once again to 'strike like forked lightning', this time with a more interesting, charismatic interpretation of what a family-sized full-electric car can be.
The coming years will bring us dozens of new electric vehicles but most will be sensible, worthy and rather boring. This car - and the various electrified Mustang family models that'll follow it - offers something more appealing and charismatic in a way that we think may well strike a real customer chord. Just perhaps, as the original Mustang sports car did back in the Sixties. Who says lightning doesn't strike twice?
For more information about any of our FORD MUSTANG MACH-E lease deals, get in touch by giving our team a call on 0330 056 3331.