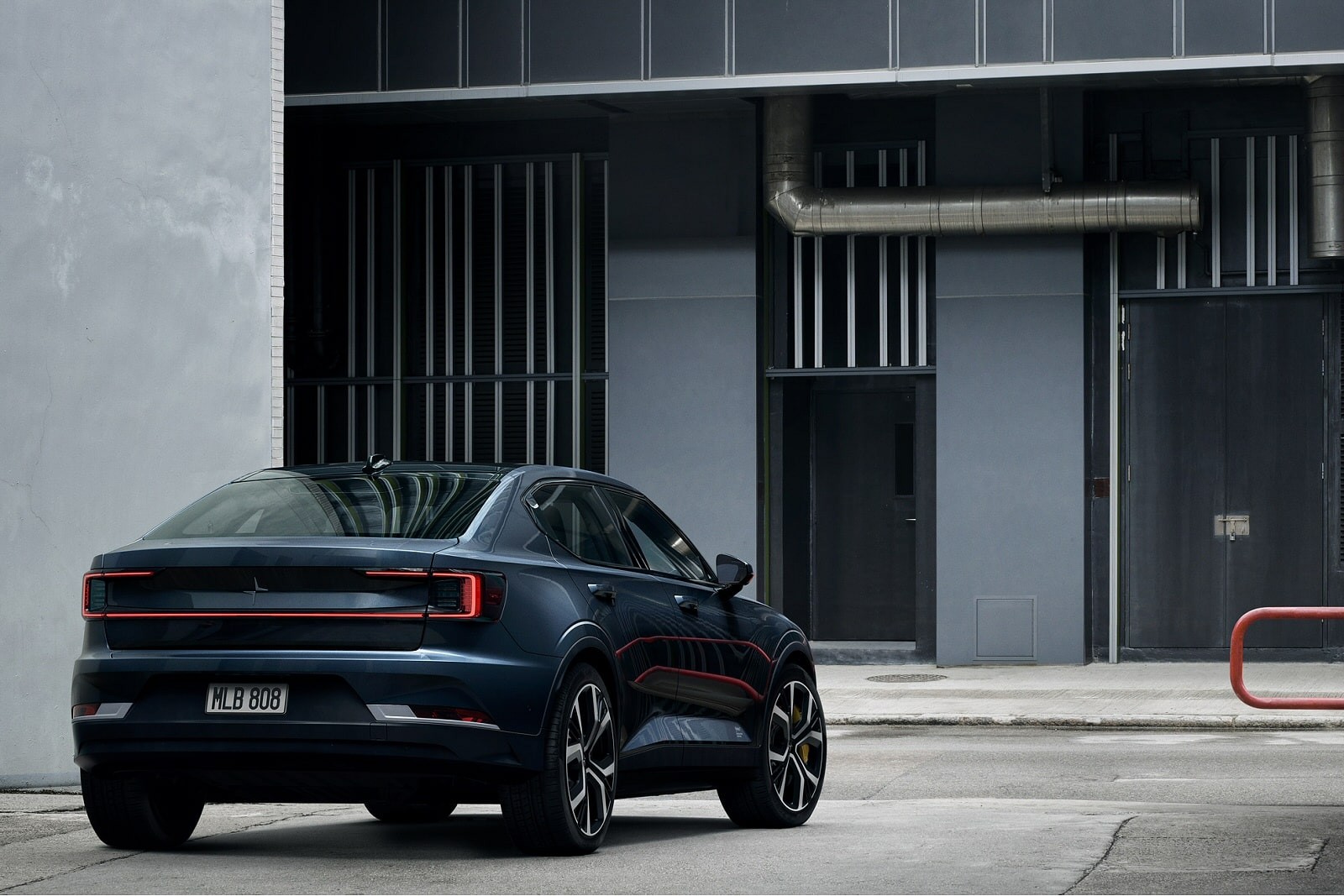 POLE POSITION
The Polestar 2 has what it takes to interest discerning buyers in the premium part of the EV segment, thinks Jonathan Crouch.
Ten Second Review
The Polestar 2 is this Swedish EV brand's most important model. It's a high quality sporting EV, a rare and rather unique five-door hatch with quality, handling and battery technology all benchmarked against the best that the premium segment competition can offer.
Background
You may vaguely be aware of the Polestar brand as Volvo's luxury platform for uniquely designed sporting electric models. Every premium marque makes an EV these days of course, but many of them merely feel like battery-powered versions of existing cars. For an early adopter to plug-in motoring, there's an undeniable appeal in the clean sheet approach that segment originator Tesla's products bring to the table.
Polestar aims to deliver that but combine it with the depth of engineering you'd get from a more established manufacturer. Its first product was the Polestar 1, a beefy luxury saloon that was a plug-in hybrid and came with a hefty £140,000 price tag. The model we look at here though, the Polestar 2, is much more like it, a full-EV priced more accessibly at around £50,000 and aimed directly at sportier versions of the Tesla Model 3.
Driving Experience
We get the Polestar concept: creation of electric cars for the kind of customer who'd normally buy a conventional premium sports saloon. But as such a buyer, you might understandably have a few qualms about choosing such a thing from a subsidiary of the Volvo marque, a maker yet to deliver any sort of enthusiast-orientated product and a brand that has announced its intention to limit the top speed of all its cars to 112mph. But give this Polestar 2 model a chance. The technical spec is, after all, pretty tempting. It offers a dual motor AWD drivetrain with 408bhp and 660Nm of torque - more than a Nissan GT-R. There's a hefty 78kWh battery with a 311 WLTP-rated driving range, the '2' can take off from rest like a scalded cat (62mph occupies just 4.7s) and you'll be flat out all the way to 140mph.
Perhaps more importantly, massive efforts have been made to imbue this car with levels of steering feel and body control that are about as far from your perception of Volvo as it's possible to get. And an optional 'Performance Pack' includes a unique set of Ohlins dampers that can be formatted with a choice of 22 options to deliver suspension feel to suit your exact preference.
Design and Build
You'd recognise the Polestar 2 as a car from the Volvo family of brands (especially from the rear) but it also has a chunky, purposeful sporty and distinctively Swedish feel of its own. Looks probably aren't going to be the primary reason you choose this contender (and they won't immediately advertise the fact that you've probably spent over £50,000 on it) but if you're OK with something a little more conservatively premium, then there's plenty to like here. Under the skin lies the same CMA platform that's used by a Volvo XC40 but it's had to be updated with a unique front subframe for extra crash protection (electric motors are less absorbent in an impact than an engine), plus there are modifications at the rear to support the heavy lithium-ion battery pack.
At the wheel, you're favoured with faultless build quality from an interior carefully fitted out with fabric, wood and vegan leather (proper hide is optional). There's a blade-shaped dashboard incorporating a predictably huge central freestanding 11.0-inch portrait-format infotainment screen. This delivers the latest Google Android infotainment system (the first time this set-up's been used by any production car). Unlike Android Auto, you don't have to connect in and then still have to separately activate car stuff (seat positioning, safety system preferences and so on). Google Android infotainment can automatically do all that for you as you approach the car. What else might you need to know about the cabin? Well the seats are soft and supportive, but the window line is rather high, which contributes to rather poor rearward visibility. Careful battery design means that rear seat legroom is surprisingly good for an EV. And once the powered rear hatch rises, you'll view a 405-litre boot, which expands to 1,095-litres with the seats down, plus there's a further 35-litre space beneath the bonnet up-front.
Market and Model
We've already alluded to the price tag here - around £50,000. For reference, that pitches this car mid-way between standard and 'Performance' versions of its arch-rival, the Tesla Model 3. There won't be any Polestar dealerships, nor will you be able to buy the marque's products from a Volvo franchise, though a couple of retail spaces (in Manchester and London) are planned to introduce customers to Polestar and advise on configuration. But the actual buying of a Polestar 2 will always be done online via an app (which will also be used to arrange servicing and aftercare).
Two key option packs are (for the moment anyway) thrown in without further charge. The first is called the 'Plus Pack' and gets you a panoramic glass roof, adaptive LED headlights, a thumping Harmon Kardon audio system and heating for the wipers, the steering wheel and the seats. There's also an included 'Pilot Pack' which gives you a 360-degree surround view camera system, adaptive cruise control and all the usual camera safety kit items (autonomous braking, lane keep control, road sign recognition, collision mitigation and so on).
Around half of all Polestar 2 buyers will opt to spend £5,000 more and get themselves the optional 'Performance Pack' that the brand is very keen you should consider. The key inclusion here is the Ohlins damping package which is built around dual-flow valves that can be adjusted via a dial on the shock absorber featuring 22 settings. Other 'Performance Pack' inclusions run to larger 20-inch wheels shod with grippier Continental Premium SportContact 6 tyres, large Brembo brakes, beefed-up springs and anti-roll bars and gold seat belts and tyre valve caps.
Cost of Ownership
The official WLTP-rated driving range is 311 miles but Polestar's own combined driving figure is 294 mikes - or 350 miles if you're driving exclusively in city traffic. There's no Porsche Taycan-style 800-volt electrified tech here to boost charging times, so the usual 400-volt set-up delivers the normal replenishment period you'd currently expect from an EV of this kind. So from a garage wallbox, think about 10 hours from empty. If you're out and about and find a 150kW DC public charger, you'd be looking at around 35-45 minutes to get an 80% fill from empty.
Charging stations along any given route are displayed via a simplified Google Maps display on the centre-dash screen. This includes live availability data so that you can see in advance which charging points are currently free. And don't worry if your trip takes you somewhere with no online reception: should you venture into such territory, the car will automatically download maps into its hard drive and switch into an offline mode so that navigational services can continue uninterrupted. Around half of all Polestar 2 sales will be to business buyers keen to take advantage of the 0% benefit-in-kind tax rating that now applies to EVs.
Summary
What kind of luxury premium electric car would a real driving enthusiast design? Our first answer would be a Porsche Taycan, but that model's extremely expensive. Our second response to that question would be to direct you towards this Polestar 2. It's clearly been developed by talented engineers, it'll handle on a different level to most other posh EVs and it develops the electric remit with Volvo-style pragmatism.
There's no big fuss about superbike-style acceleration times. Or about how it can charge in next to no time from rapid charging stations you'll hardly ever come across. It doesn't even mess about with a pointless SUV configuration. Instead, the Polestar 2 simply gets on with delivering what is arguably the most complete EV experience in the £50,000-£60,000 price bracket. It has a Tesla-like feel of innovation, a Mercedes EQC-like feel of quality and a Jaguar I-PACE-like feel of sporting purpose. All with rare unique branding and packaging. Buying one would be a step into the unknown. But we can see why you might.
For more information about any of our POLESTAR 2 FASTBACK lease deals, get in touch by giving our team a call on 0330 056 3331.