CUSTOMER-FOCUSED
Ford's Transit Custom one-tonne mid-sized van offers an even stronger LCV proposition with smarter styling and frugal electrified engine technology. we take a look at what's on offer.
Ten Second Review
Ford's Transit has ruled the British large LCV market for around half a century, its very name synonymous with its purpose. In the past, this may have had a great deal to do with tradition and the vast choice of derivatives on offer but today's sales success is very much down to quality of product. Take this mid-sized model, the Transit Custom, now improved with the option of mild hybrid EcoBlue diesel power and the availability of a PHEV petrol plug-in variant. The 'Custom' slots into the range beneath the largest '2-tonne' model, known simply as 'Transit', and is there to take on Vito and Vivaro-sized medium-sized vans in the volume part of the LCV sector. It's a very complete commercial vehicle indeed.
Background
Think of a large-ish van and it's a pretty sure bet that you'll be thinking of this one, Ford's Transit, the self-proclaimed 'backbone of Britain'. And it's true, thousands of British businesses do indeed depend on this vehicle. So successful has it been on these shores since its original launch back in 1965 that its very name has almost passed into our language, a byword for van versatility.
This Custom version hits the sales sweet spot in the medium range LCV marketplace for a vehicle not too big - and not too small. Here is Ford's answer to European market leaders like Volkswagen's Transporter, Mercedes' Vito, the Peugeot Expert, the Citroen Dispatch, the Renault Trafic and what on these shores, we know as the Vauxhall Vivaro. To deal with such tough opposition, the Blue Oval brand is offering both mild hybrid and Plug-in hybrid powertrains to Transit Custom operators, along with more advanced driver assistance features. Plus, as usual, there's an enormous range of model variants, with over 300 Transit Custom versions on offer. Not bad when you remember that there were just 75 derivatives available when the original model Transit was first launched back in 1965. As a result, whether today your large van needs are to carry packages or people, then this Ford remains an option that you simply can't ignore.
Driving Experience
Under the bonnet, this LCV's 2.0-litre Ford EcoBlue engine is offered in 105PS, 130PS, 170PS and 185PS power ratings, with all but the lowest-powered version available with the option of automatic transmission, a 6-speed SelectShift set-up. With this updated model, buyers of the 130PS variant also get the option of a frugally-focused mHEV mild hybrid variant. There's also a plug-in PHEV model, but that has to be had with a 1.0-litre EcoBoost 126PS petrol powerplant and single-speed automatic transmission.
The EcoBlue diesel powerplant that most buyers will choose has been engineered to provide strong low-end pulling power - enough to be able to tow a braked trailer of up to 2.0 tonnes. The other thing you notice at the wheel with these engines is how relatively quiet they are, thanks in part to the 6-speed manual transmission with its long gearing. And of course the provision of a standard bulkhead across the range helps further here.
The sprightly handling and performance makes it important that the brakes are up to the job - they are. You'll also want this vehicle to be manoeuvrable, hence a decently tight turning circle that varies between 11.6m (kerb-to-kerb) and 12.2m (wall-to-wall). And should you be at an uphill junction, standard Hill Launch Assist will help you get away smoothly.
Design and Build
This Transit Custom was updated in 2018 with a smarter look based around a high-mounted trapezoidal grille and dynamic, slim headlamps. The cabin was completely upgraded as part of this facelift, with an instrument panel based on Ford's latest interior design philosophy which offers a user-centric layout influenced by consumer interactions with smart devices and tablets. High-series models feature a floating, tablet-inspired eight-inch 'SYNC 3' colour centre-dash touchscreen for communications and entertainment. For models not equipped with the larger display, the MyFord Dock in the centre of the instrument panel provides the ideal location for drivers to mount, store and charge their smartphone, MP3 player or satellite navigation system.
There's class-leading interior stowage, with up to 25-litres of space offered in the instrument panel, including three convenient open bins on its upper surface with space for clipboards or mobile devices, and generous glove box stowage capable of storing hanging A4 files in the lower closed compartment. Further extra practical features include a fold-out cup holder beneath the gear lever, adding to the cup holders and 2-litre bottle holders at each end of the instrument panel. The seats are also new, smarter and more supportive. Most models get the option of being able to fold down the middle of the three seats to create an impromptu desk big enough for a laptop or a clipboard with two cupholders, a pentray and an elasticated band that'll keep your paperwork in place. We also like the way that folding the base cushions of both the passenger seats forward opens up a roomy, concealed 93-litre storage area for hiding away valuable items like tools.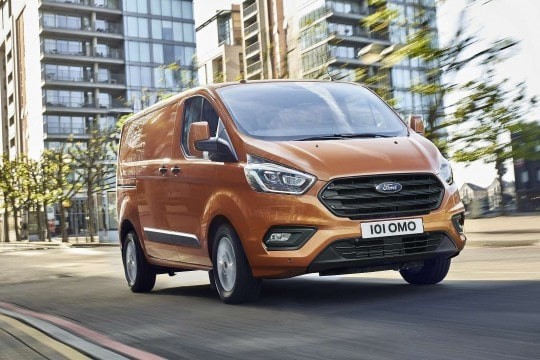 Market and Model
There are several hundred Transit Custom derivatives from which to choose, with most being centred around the Panel Van bodystyle. Adding people to the packaging mix means you might want to look at the Double-Cab-in-Van bodystyle with its extra rearward seats in front of the load bay. Or, if you want to give the whole space over to the carriage of people, there's a 9-seater Kombi minibus. If you want something even more luxurious than that, there's a smarter, more luxurious 8 or 9-seater Tourneo passenger bodystyle, but Ford really now considers this as a passenger car product and a decent alternative to really large MPVs for bigger families.
Here though, our main focus is on Transit Custom Panel Vans. Price-wise, most models will be sold in the £25,000 to £30,000 (ex-VAT) bracket that's common to the medium range van class. In rough terms, you need to be looking at adding around £700 to the cost of any given short wheelbase variant if you want to upgrade it to beefier long wheelbase spec. You can also talk to your dealer about the higher roof bodystyle also developed for this van which will only cost a few hundred pounds more.
Optional advanced driver assist technology includes the 'Pre-Collision Assist with Pedestrian Detection emergency braking system', 'Lane Keeping Alert', 'Side Wind Stabilisation' and 'Adaptive Cruise Control'. Plus you can also have an 'Intelligent Speed Limiter', a 'Traffic Sign Recognition' system and 'Rear Cross Traffic Alert' to help you when reversing out of spaces.
As for rivals, well they're many and varied of course. Short and long wheelbase Transit Custom models compete mainly with Medium-sized vans like Vauxhall's Vivaro, Renault's Traffic, VW's Transporter, Mercedes' Vito, Peugeot's Expert and Citroen's Dispatch. You'll need the fully fledged model just known as 'Transit' (or in Ford-speak as the '2 Tonner') if you want the next class up from this.
Practicalities & Costs
Certainly the bulky stuff should go in OK, with even the lowroof version offering a rear door aperture 1400mm wide and 1340mm high, though of course that'll be higher if you've specified the high roof option. The roof height, along with your selection between short and long wheelbases, will also of course determine your loadspace volume. At the bottom of the range, short wheelbase low roof customers get a very decent 6.0m3, which, thanks to a loadspace length of 2555mm and a class-leading width between the wheelarches of 1,390mm, is enough to make this the only vehicle in the SWB medium range van class able to transport up to three europallets with a one metre-high load. Make use of all that space and you'll be glad of a payload of at least 883kgs.
So, in short, you may not need the long wheelbase version we tried, but if you do, then you'll find that the extra 0.37m of length is enough to up the loadspace volume to 6.8m3, while to match it, payload rises to anywhere between 1,014 and 1,414kgs, depending on the Gross Vehicle Weight you choose.
Whatever Transit Custom model you choose, it'll get a sliding side door with class-leading height and width (1,320mm high in lowroof form and 1,030mm wide).
On to cost of ownership, an area where this model's latest EcoBlue diesel engines are very competitive. Let's look at the WLTP figures, which vary between 33.5-35mpg on the combined cycle for this diesel unit in its conventional non-electrified forms, along with a CO2 return of up to 198g/km. Across the range, the EcoBlue engines deliver 2-year/37,000 mile service intervals.
For the PHEV 1.0-litre petrol version, the official quoted combined cycle mpg figure is up to 78.4mpg with a CO2 reading of 81g/km. The Transit Custom PHEV has an all-electric driving range when fully charged of around 35 miles from its 13.6kWh battery pack. This can be charged in 2.7 hours using a 7Kw charger (wallbox) - or in 4.3 hours from a domestic plug.
Summary
This may be the most sophisticated medium-sized Transit van we've yet seen but businesses will still buy it for the same reasons. This Custom model remains such a simple, straightforward one-stop choice and it'll help that it satisfies a wider variety of commercial needs than any other Transit derivative. Across the rest of Europe, Transit models enjoy none of the market dominance that they have in the UK but on the evidence of this improved Custom model, you'd have to wonder whether Continental buyers are missing a trick.
That wasn't always the case of course. Ford's dominance in the British LCV sector has traditionally been founded on little more than the fact that UK buyers tended to replace their Transits with another because that was what they'd always done. That may continue, but what is different today is the quality of the product those people are buying into. Very few rivals can these days beat either this Ford's practicality or its day-to-day operating costs. It is, once again, number one for a reason.
Check out our Ford Transit Custom Special Offers here.
For more information about any of our Ford Transit Custom deals get in touch by giving our team a call on 0330 056 3331.