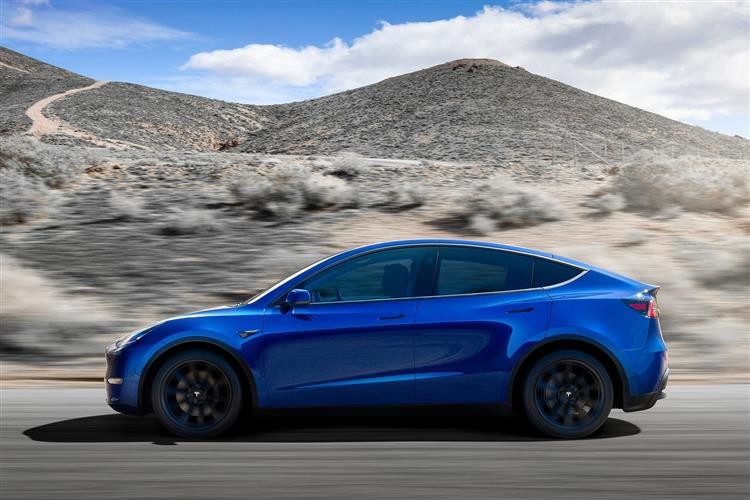 Y-NOT?
The Model Y should bring Tesla into the mainstream
Ten Second Review
Tesla's Model Y aims to redefine what a compact-to-mid-sized SUV can deliver. It brings the engineering of its Model 3 saloon showroom stablemate to this quickly growing segment and lays down a benchmark to the established brands as to exactly what a full-electric BEV Crossover of this kind ought to be.
Background
This is where Tesla gets serious (again). The Model Y is the brand's very first compact-to-mid-sized SUV. And the company predicts that it'll out-sell all its other three models combined. Tesla's Model 3 mid-sized saloon was the first car that brought the brand into more affordable market segments and if you're familiar with that car, you'll be familiar with a Model Y because 75% of components are shared between the two models. Model Ys for Europe will be built at Tesla's new Berlin factory. The car will also be built in California and Shanghai and eventually, around half a million examples of it will be produced for worldwide sale each year.
So, this car needs to be good, pivotal as it'll be for Tesla. Market demand for SUVs is, after all, far higher than it is for saloons - or cars in the Model S or Model X large luxury category. But that demand is already being satisfied by an army of compact-to-mid-sized SUVs with full-battery power from other brands. Cars like the Volkswagen ID.4, the Audi Q4 e-tron, the Skoda Enyak iV, the CUPRA el-Born, the Volvo XC40 P8 and the Ford Mustang Mach-E - to name just a few. Let battle commence.
Driving Experience
All the running gear is shared with Tesla's Model 3, which means that Model Y customers get the same three variant choices - or will eventually do so anyway. There's a base 'Standard Range' version with a 230 mile range, a 5.9s 0-60mph time and a 120mph top speed. Next up is the version most will choose, the 'Long Range' derivative, which offers 314 miles of range, a 5.5s 0-60mph time and a 130mph top speed. This mid-range variant also comes in 'Dual Motor' 4WD form, in which guise the range falls to 280 miles but speed improves to 4.8s and 135mph. At the top of the line-up is the dynamic 'Performance' model, basically the fastest compact-to-mid-sized SUV there is, with around 450hp on tap and 640Nm of pulling power. This top derivative also has a range of 280 miles, but sprints to 60mph in just 3.5s and tops out at 150mph.
This car's low centre of gravity promises much in terms of handling. Tesla's Elon Musk says it 'has the functionality of an SUV but rides like a sports car'. A low centre of gravity and a drag coefficient of 0.23Cd will also help. Despite the availability of 4WD, there's no off piste capability of course - this car sits only 168mm from the deck (which is lower than some ordinary family hatches); so you sure aren't going off-roading in it.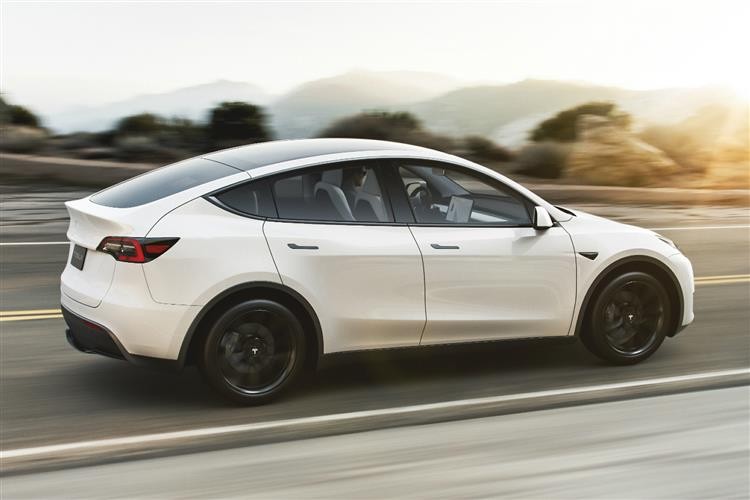 Design and Build
Though the Model Y shares a platform with its Model 3 showroom stablemate, it's around 10% longer - 4,750mm in length. And of course, being an SUV, it's a hatch, not a saloon. Getting in and out via the pillarless doors is easier because of the taller body. And Tesla has designed the car to be able to incorporate an optional 3rd seating row too, though the occupants had better not be above school age. As usual with the brands cars, you open the car with your smartphone - there's no physical key - but if it's run out of battery, you get a credit card-sized key as well, just in case.
Inside, differences over the Model 3 saloon are few, the dash and interior of that car carried over almost completely. You can have a bigger panoramic glass roof - that's the only real difference. So, as usual on a Tesla, the fascia is dominated by a huge central infotainment touchscreen of upright portrait format. Build quality and material richness might not be quite what you're looking for if you're seeking a premium branded model in this sector but it's quite comparable with a volume maker rival. As usual with a Tesla, there are almost no physical buttons in the cabin - almost everything's controlled via the touchscreen, which is sharp to look at and as easy to use as ever. The back seat is comfortable for a couple of adults. And there's a decently-sized boot, extendable to 1,869-litres in size if you fold the rear seats. You also get a bit of extra space under the bonnet.
Market and Model
Prices start at just under £30,000 for the 'Standard Range' version. Think more like £37,000 upwards for the 'Long Range' model - or close to £40,000 if you want it with Dual Motor 4WD. For the top 'Performance' model, you'll need a £50,000 budget. Standard equipment includes all the usual executive niceties. And there's a forward facing radar that scans the road 160-metres ahead as you drive, providing a long-range view of distant objects. A 360-degree camera system making parking easier too. You can certain have plenty of luxury features if you want then, things like a 14-speaker premium audio system, 12-way power adjustable leather front seats and a tinted panoramic glass roof with ultra violet/infra-red protection.
Safety should be a strong point. Tesla says the Model Y is designed to be the safest vehicle in its class. The low centre of gravity, rigid body structure and large crumple zones provide strong protection. Like all new Teslas, this one comes as standard with emergency braking, collision warning, blind-spot monitoring and more. And in future, the brand promises that the Model Y will have Full Self-Driving capability, enabling automatic driving on city streets and highways pending regulatory approval, as well as the ability to come and find you anywhere in a car park: brilliant.
Cost of Ownership
Owning a Model Y will of course be very different from owning a conventionally powered compact-to-mid-sized SUV. There'll be no fuel bills of course and servicing costs will be much smaller. The annual service fee covers an annual inspection, replacement parts like brake pads and windscreen wipers, 24 hour roadside assistance, system monitoring, remote diagnostics, software updates and new features sent through the touchscreen. As for driving range, well we'll repeat the figures quoted earlier - 230 miles for the standard Range version, 314 miles for the 'Long Range' variant and 280 miles for the 'Long Range' and top 'Performance' Dual Motor models.
The car responds best to nightly recharges, but will happily sit for a couple of weeks at an airport while you holiday without losing significant charge, though over longer stationary periods, the cells will slowly lose their charge. The Model Y is compatible with the US brand's third generation public Superchargers, which are capable of 250kW charging. Hooked up to one of these, your Model Y will be able to recover 75 miles of range in five minutes, or up to 168 miles in fifteen minutes, with a peak charging rate equivalent to 1000 miles for every hour. Tesla currently has more than 20,000 Superchargers globally across 36 countries.
Summary
There's no doubt that the Model Y is the most important Tesla yet. And it's a car you'll get used to seeing on our roads. European rivals are catching this American brand quickly in terms of electrified powertrain technology and they still often shade Tesla in terms of cabin quality. But they still can't (yet) match Tesla's public charging infrastructure. There's nothing from any other maker like Tesla's network of 'Supercharging' stations. And that'll sway many customers towards this car.
These people will also like the fact that the Model Y is arguably the most avant garde compact-to-medium-sized SUV in its segment. And potentially (in top 'Performance' form) the very fastest too. If these sound like winning attributes in a car of this kind, you'll know where to start your search.
Check out or latest offers on the Tesla Model Y right here!
Here at LetsTalk Leasing, we are proud to be one of the top leasing companies in the UK, you can read reviews from our happy customers on Google here. Browse our leasing car deals online or speak to one of our friendly advisers by calling us on 0330 056 3331.