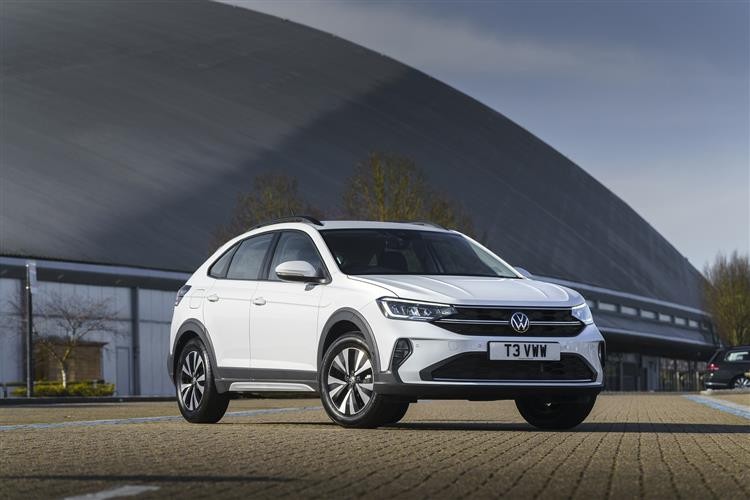 The Definitive Review - Volkswagen Taigo
A TAI RECIPE
Volkswagen's Taigo offers a slicker small SUV option.
Ten Second Review
Volkswagen has added further to its already extensive line-up of compact SUVs with this trendier-looking model, the Taigo. This car shares much with both the Polo supermini and the brand's existing entrant in the compact Crossover class, the T-Cross, but brings a more avant garde vibe that will appeal more to the segment's fashionistas. And of course with it, you get all the usual reassuring Volkswagen attributes of quality and sound engineering.
Background
It doesn't seem so long ago that the Volkswagen SUV range began with the Tiguan. Today it's very different. Now there are no fewer than three Crossover models positioned below that car. Two you might be familiar with, the T-Cross and the T-Roc. The other though, might be less familiar, this car, the Taigo.
The Taigo's here because there's been an explosion in sales of small SUVs in recent years and it was an easy extra model for Volkswagen to bring to Europe, this design already being on sale in South America where it's known as the Nivus. For our continent, it's being built in Pamplona, Spain and is being positioned as a trendier, more coupe-like alternative to the Polo supermini-based T-Cross. Coupe versions of mid-sized and large SUVs have sold quite well and Volkswagen is hoping same will be true here.
Driving Experience
If, like most buyers of this model, you've decided on the 110PS version of the three cylinder 1.0-litre TSI petrol powerplant, you might be forgiven for feeling quite hopeful here. This engine (which sits above an entry-level 95PS version of this unit and can also be had with 7-speed DSG auto transmission) is, after all, much the same as the one that'll royally entertain you in the brand's up! GTI citycar shopping rocket. And here, it's bolted to an even better platform, the Polo supermini's stiffer MQB-A0 chassis. If your Taigo happens to be jazzily packaged, you might think it would all add up to a little SUV that could be as fun to drive as it can be to look at.
But of course the 1.0-litre TSI engine in this Crossover has quite a bit more weight to lug about than it's saddled with in an up! The longer ratios chosen for the 6-speed manual gearbox and are more geared to cruising than cremating the tyres. And of course that taller body will make its presence felt if you're minded to start ambitiously pushing on at speed through tighter bends. All of these attributes will of course be welcome to the older buyers who'll ignore the surf shack marketing and form the largest likely audience for this car. Some of these people might be more minded to stretch to the alternative four cylinder 1.5-litre TSI 150PS engine that Volkswagen is offering with this car - though that can only be had with the DSG auto transmission, which makes it a much pricier choice.
Design and Build
Think 'fastback T-Cross' here and you'll not be too far out. Like the T-Cross, the Taigo is based on the Polo supermini's MQB-A0 platform, but unlike the T-Cross, it gets a sportier swept-back rear end, finished by a full-width light bar. Sharp creases down the flanks, contrasting wheel arch trims, an extended rear overhang, smart LED headlamps and a deep front bumper complete the more dynamic effect. Dimensionally, the Taigo conforms to the segment norm, its 4,266mm length, 1,494mm height and 1,757mm width being comparable to the strong-selling Nissan Juke.
Inside, there is of course lots carried over from both the T-Cross and the Polo, which means this car gets the brand's latest MIB 3 entertainment software for its 8.0-inch central screen - upgradeable to 9.2-inches in size further up the range. Plus there's a completely digital instrument gauge cluster, which will be either 8.0-inches or 10.25-inches in size, depending on the spec you choose. Rear seat headroom is slightly less than you'd get in a T-Cross because of the sloping roof, but you'd have to be quite tall to notice it. And a couple of averagely-sized adults should be fine. Out back, there's a 438-litre boot - that's 17-litres less than you'd get in a T-Cross.
Market and Model
Prices start at around £23,000 (think around £1,000 more than a comparable T-Cross) but most models sit in the £25,000-£28,000 bracket and it's possible to pay as much as £30,000 or more for a Taigo. There are three trim levels - 'Life', 'Style' and 'R Line'. Even 'Life'-spec gets quite a lot, with 16-inch 'Everett' Black alloy wheels, front fog lights, LED headlights and black-finished roof rails. Comfort and convenience features include logo projection lighting from the car's door mirrors, a multifunction camera, lumbar support for the front seats, electrically-folding heated door mirrors and a multifunction steering wheel. There's also an 8.0-inch instrument screen and a central infotainment monitor of the same size. Standard safety kit includes Lane Change Assist, Adaptive Cruise Control and Park Assist with front and rear parking sensors.
Move up to 'Style' trim and you get Volkswagen's 'intelligent' 'IQ.Light' LED matrix headlights. These feature individually controlled modules that are able to automatically switch modes to suit a variety of driving situations. The Taigo 'Style' also features 17-inch 'Aberdeen' alloy wheels, as well as Dynamic Light Assist for the IQ.Light headlights as standard. Plus a 10.25-inch 'Digital Cockpit Pro' dashboard display and an 8.0-inch 'Discover Navigation' infotainment system. Sportier 'R-Line' trim gets you 17-inch 'Valencia' alloy wheels and R-Line exterior styling with bespoke bumpers. On the inside, more 'R-Line' styling cues are present, with a black roof-lining, 'R-Line' badging on the floor mats and an 'R-Line' specific multifunction steering wheel, plus luxuries such as ambient lighting and 2-zone Climatronic climate control.
Cost of Ownership
As you'd expect, this Volkswagen delivers a frugal set of running cost returns. In base 1.0 TSI 95PS manual form, you're looking at 51.4mpg on the combined cycle and 124g/km of CO2; it's 52.3mpg and 124g/km for the 1.0 TSI 110PS manual model; and 47.9mpg and 134g/km for the 1.0 TSI 110PS DSG auto variant. For the four cylinder 1.5 TSI 150PS DSG auto version, it's 47.9mpg and 138g/km. There's no diesel option - and both mild hybrid and Plug-in hybrid tech is missing too.
And warranties? Well the standard package is three years and 60,000 miles. We can't see why Volkswagen couldn't extend that mileage limit to 100,000 miles, since that what you get on its mechanically very similar Caddy model. Doing that though, wouldn't give Volkswagen dealers so much of an opportunity to sell extended warranty packages. There's one for four years and 75,000 miles or, if you plan to see a bit more of the world in your Taigo, there's a five year / 90,000 mile package. Whatever your decision, your car will come with three years of pan-European Roadside Assistance that has no mileage restriction. The paintwork warranty lasts for three years and, as you'd expect, this little SUV is protected by a 12-year anti-corrosion package.
Summary
You wouldn't have thought there was room for yet another small SUV in Volkswagen's range, but the Wolfsburg brand has found space for the Taigo anyway. It's difficult not to think that it will merely sell to folk who would otherwise have bought T-Roc or an upper-spec T-Cross; that's one perspective. The other is that the T-Cross looks a little frumpy compared to some avant-garde rivals like Nissan's Juke and Ford's Puma. Which has meant to date that some people not prepared to move up to the slightly larger T-Roc have been dismissing the Volkswagen brand in the small SUV segment. The Taigo will put this issue right.
Perhaps too effectively. After all, it's certainly difficult to see why you'd choose a mid-to-high-spec T-Cross when you could have this trendier Taigo instead for only slightly more. But that assumes you're wedded to the idea of having a Volkswagen in this segment. Many browsing customers of course won't be; they simply want a stylish, well-equipped quality option when it comes to a car of this kind. With this model in the range, the Wolfsburg maker thinks it's better able to offer that. They could well be right.
If you need more help or advice about the new Volkswagen Taigo get in touch with our team by giving us a call on 0330 056 3331.
If you prefer to self serve you can find your perfect Audi Hybrid here.