Electric SUV Leasing Comparison
It was the best of times, it was the worst of times, it was the age of wisdom, it was the age of foolishness, it was the epoch of belief, it was the epoch of incredulity, it was the season of Light, it was the season of Darkness, it was the spring of hope, it was the winter of despair, we had everything before us, we had nothing before us, we were all going direct to Heaven, we were all going direct the other way—in short, the period was so far like the present period, that some of its noisiest authorities insisted on its being received, for good or for evil, in the superlative degree of comparison only but enough about Brexit....
As we rapidly approach the effective two tier company vehicle benefit in kind taxation system in April 2020 its worth a closer look at how this will impact anyone ordering a new company car today and what better way to do this comparing two fabulous Jaguar SUV options which are both proving incredibly popular in the company car and personal car leasing world.

Tale of the Tape
Vehicle
Jaguar I-Pace
EV400 90kWh 400ps S Auto AWD
JAGUAR F-PACE
SUV Crossover 2.0d 163ps Prestige
Fuel Type
Electric
Diesel
C02
0
146
P11D Value
£64,440
£38,495
MPG / Range
Electric Range : ~300 miles
MPG : 48
BIK%age 2019/20
37%
16%
BIK%age 2020/21
37%
2%
BIK%age 2021/22 (estimate)
37%
2%
Business Contract Hire Rate
36m 10,000 miles Including Maintenance
£626
£742
As you can see at this stage we are still having to make a few assumptions as the Government are yet to announce company car BIK rates for the year 2021/22 onwards.

We have based the analysis on a typical low mileage company car driver who undertakes 10,000 miles total per year but only undertakes 2,000 business miles, the typical perk car driver who has perhaps been looking to the cheap car leasing options available in the personal contract hire market, thats not to say this Electric I-Pace is not suitable for higher business mileage drivers but car must be taken to ensure the vehicle chosen is suitable for business needs, we have more information in our Electric Vehicle Leasing Guide.
Prices taken as at March 21st 2019 from www.letstalkleasing.co.uk/jaguar/i-pace and www.letstalkleasing.co.uk/jaguar/f-pace
So how does this Car Lease Comparison measure up:
What is the cost to the driver?
We modelled a company car driver who is also a 40% taxpayer.
As you can see the 2 vehicles have very different P11D values which are used to calculate the drivers company vehicle BIK position with the All Electric I-Pace coming in at £24,000 more expensive however the BIK %age tells a very different story with the diesel version maxing out at 37% BIK tax every year and the Electric option dropping from 16% to just 2% in 2020!
As a result of this the Taxable BIK value over the 3 years is just £4,296 for the I-Pace and £14,243 for the Diesel F-Pace, this translates to a monthly tax bill of £143 for the Electric and £475 for the diesel.
In addition the cost of Electric is about 4p per mile versus 12p per mile for the Diesel (note the price of fuel fluctuates and average MPG will differ per driver depending on driving habits)
Result : So the winner here is the Jaguar I-Pace with the monthly driver costs only £170 saving a huge £384 versus the F-Pace.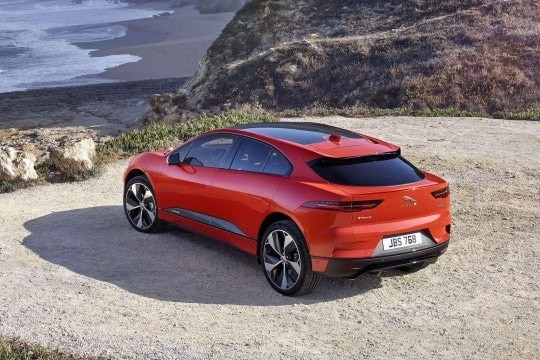 And the cost to the employer?
You would think that given the business car lease cost of the I-Pace is £116 a month higher at £742 then the Electric option would be much higher but that's not the case, across the contract :
I-Pace Lease costs are £4,596 higher
I-Pace fuel costs are £480 lower (remember this is only 2,000 business miles per year)
F-Pace Class 1A National Insurance costs are £4,118 higher!
So as a result of this the total net cost for the employer is identical at £740 a month!
Result : A dead heat

Is this just a Jaguar thing?
Certainly not, the key is the Emissions Free Driving range of the Electric vehicle alternatives as this anything over 130 miles qualifies for the 2% BIK from April 2020, see details in our vehicle BIK Guide and as such there are many Electric Vehicle leasing options which would deliver similar results.
Conclusion
Its always worthwhile getting beyond the cheap car leasing headline rates and into the Vehicle Total Cost of Ownership as this can deliver surprising results.
What we see here is 2 vehicles similar in size and suitability for company car drivers which have identical total costs of ownership for the company but the driver saves a whopping £384 a month in the electric vehicle as well as driving a cleaner vehicle which is more environmentally friendly.
At letsTalk our Total Cost of Ownership Modelling tools enables us to compare 9,000 vehicles intantly and identify the right vehicles for any business based on their bespoke requirements, interested in finding out more then LetsTalk on 0330 056 3331.
**** Update 3rd July - Is it any wonder demand for Electric Vehicle Charging Points is set to soar? ****

Data Analysis