SUMMARY
This fantastic fully electric model, as intended, will surely be the car that establishes Genesis in the European market.
Though it shares so much with Kia and Hyundai EVs we've seen before, it also feels very much its own car, different, interesting and innovative. And there's a real opportunity for Genesis here given that EV customers have far more of a clean slate perspective and are far less likely to simply default to the old established brands.
Certainly, for those wanting to try something new, the GV60 really does deliver. If you're going to switch to EV, why not make a completely fresh start? This car provides exactly that.
BACKGROUND
You might by now have some vague recognition for the Genesis brand, the Hyundai Motor Group's premium car maker. But it's probably quite unlikely that you can picture one of its products. The company needs a definitive model; and this is it, the GV60.
It's the Genesis brand's sixth European market model and its third EV offering - the others are the slightly larger GV70 electric crossover and the G80 electric large luxury saloon. The GV60 though, is the model that will sell in the numbers Genesis needs for better European recognition. It uses the engineering already seen in the Hyundai IONIQ5 and the Kia EV6 - so e-GMP platform, advanced 800V electrical architecture and 73kWh battery pack.
But this GV60 also has a few extra tricks up its sleeve - as we're going to see.

DRIVING EXPERIENCE
There are some drive features here we haven't seen before here, but they don't apply to the base 'Premium' and mid-range 'Sport' models that most GV60 customers will choose. All models in the range feature the same 73kWh battery pack, with the entry-level 'Premium' variant using it to drive a 225bhp motor on the rear axle, this confection delivering 280 mile range. Next up is the mid-range 'Sport' version, which has a 215bhp motor on the rear axle and a further 99bhp motor at the front, creating an AWD model with 314bhp of total power output, 605Nm of torque and a 248 mile range.
The new stuff is saved for the top 'Sport Plus' variant, which borrows its potent 429bhp Dual Motor AWD powertrain from the uber-rapid Kia EV6 GT. As a result, a GV60 'Sport Plus' will sprint to 62mph in just four seconds, though if you exercise that acceleration frequently, you won't get anywhere near the claimed 228 mile range figure.
Stuff we haven't seen before but featuring on this 'Sport Plus' model includes a 'Boost Mode' that you activate via a button on the steering wheel, which gives the car an extra 54bhp and 95Nm of pulling power for easier overtaking.
The second unique feature is a 'Drift Mode' - which you might think a little weird on an electric SUV.
This alters the torque split of the All-Wheel Drive system to send more power to the rear motor and maximises the impact of the GV60's electronic limited slip differential.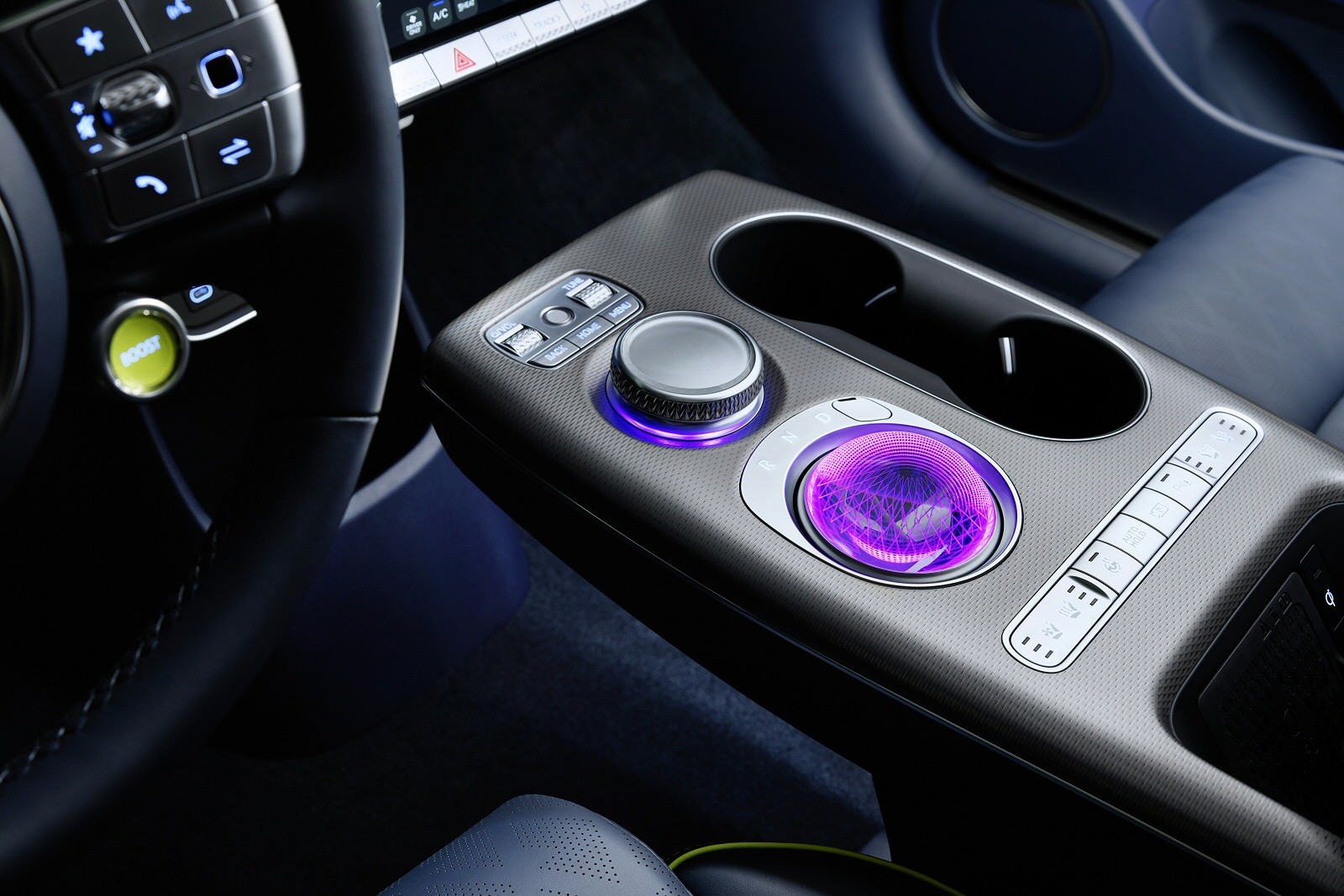 DESIGN AND BUILD
There's certainly the required family resemblance to other Genesis models here - the split-level headlamps are similar to those of the G70. But there's no imposing Bentley-esque radiator grille for the GV60 of the sort that features on the company's other models. Instead, this appendage is blanked off to improve aerodynamics.
There's a clamshell bonnet; and door handles pop out, as do cameras which replace conventional door mirrors, these linked to a couple of screens inside. The cabin feels airy and minimalistic; it can be quite up-market too, further up the range. Chevron and lozenge-shaped design themes dominate and the floating centre console is inset with kind of in-lit crystal ball - the 'Crystal Sphere'.
Get in and it initially seems like a design feature but power up and this flips over to reveal the gear selector. There are two 12.3-inch screens, one in the middle of the fascia for the infotainment functions and the other for the instrument gauges. The car can also wirelessly receive upgrades, not only for media functions but for things like the suspension, the brakes, drive assistance technology, the steering system and the central 'brain' that controls the car's EV motors and charging set-up.
Rear seat passenger space isn't that generous, but a couple of adults would probably be fine for all but the longest journeys.
Out back, there's a 432-litre boot and you don't have to clutter it up with charge leads because there's also a 53-litre 'frunk' compartment beneath the bonnet where you can put those (though that reduces to 20-litres in size with the All-Wheel Drive model).
MARKET AND MODEL
Prices start at just over £47,000 for the base 'Premium' model, from around £53,500 for mid-range 'Sport'-spec and from around £65,500 for the top 'Sport Plus. A feature you'll really want to try is the camera system that replaces the door mirrors, using exterior stalks with lenses linked to screens inside the car.
As with other Genesis models, there's also a Blind Spot camera display that activates a rear camera function when you indicate. Premium kit fitted according to trim includes leather upholstery, heated seats, a panoramic sunroof and a Bang & Olufsen stereo. Safety equipment includes Forward Collision Avoidance with autonomous braking, Blind Spot Warning, Smart Cruise Control, semi-autonomous Lane Follow Assist, High Beam assist and Lane Keep Assist.
Genesis doesn't have a network of UK dealerships. Instead, everything is done via so-called Genesis 'Studios' - which will be shopfronts in upmarket shopping centres. One has already been opened in London and others will follow. But you don't have to go to one of those. You simply connect with Genesis online, then you'll be allocated your own Genesis Personal Assistant who'll take you through the sales process, from test drive to delivery - and they'll deal with after-care as well. This Assistant isn't won't be salaried on commission as an ordinary car salesperson would be, so you won't get any hard sell.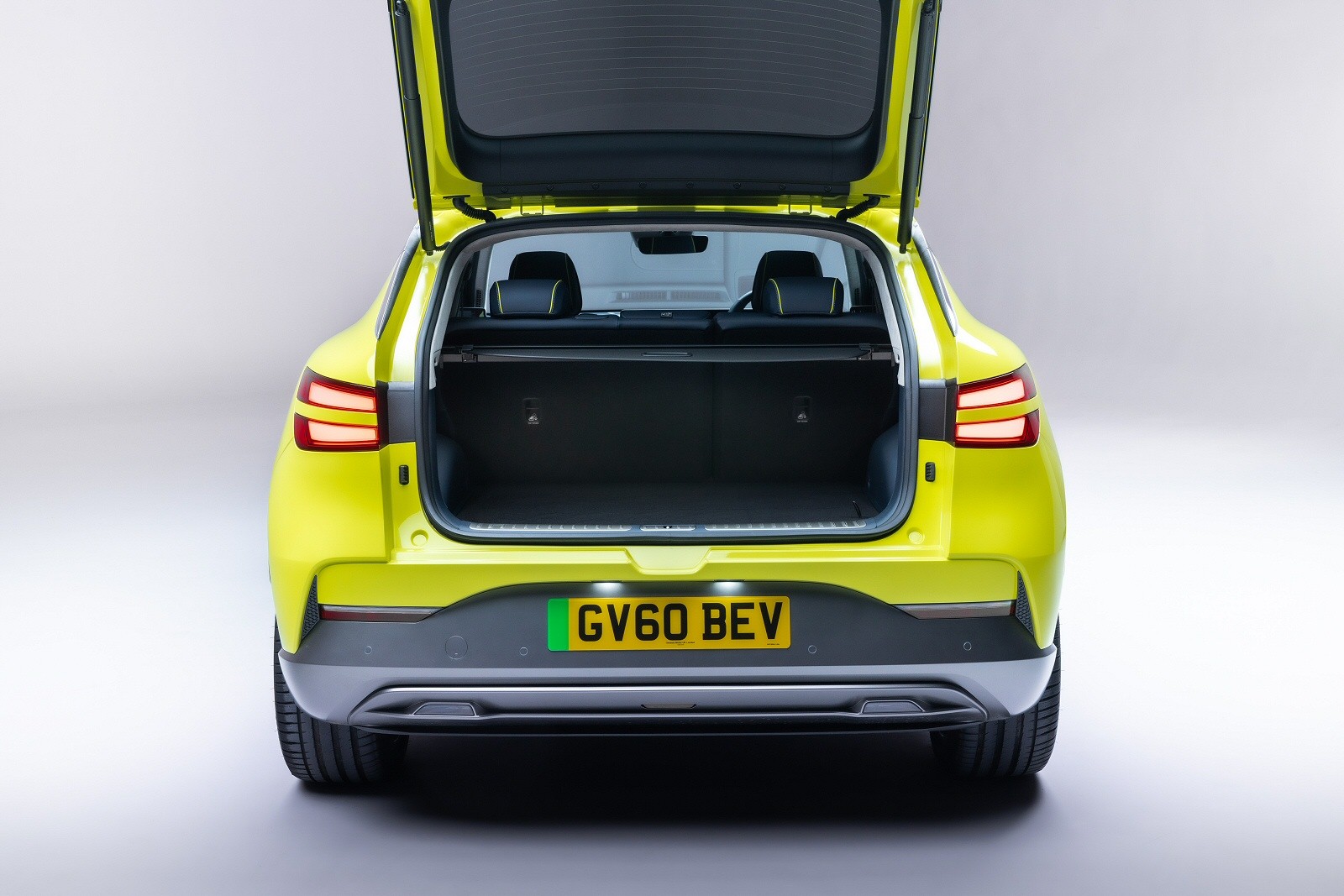 COST OF OWNERSHIP
We gave you the 77.4kWh battery pack's driving range figures in our 'Driving Experience' section; 280 miles for the rear-driven 'Premium'-spec model, 248 miles for the All-Wheel Drive 'Sport' variant and 228 miles for the top 'Sport Plus' performance derivative. 350kW rapid-charging is possible from 10 to 80% in 18 minutes.
Genesis is also talking about introducing a wireless charging mat (for the whole car, not your 'phone) during this model's production life that you just drive over to charge it, removing the faff of attaching leads. Like every Genesis, this one is covered by a 5 year Care Plan which includes scheduled servicing for 5 years or 50,000 miles. With each service visit, Genesis will collect and return the car to your door.
This also applies to any necessary work required, including warranty work. You simply contact your Genesis Personal Assistant to make it happen. Who can also arrange a courtesy car.
The 5 year Care Plan also includes updates to in-car navigational maps. And there's complimentary subscription to Genesis Connected Services, which will allow you to access information services from your 'phone to digitally enhance your ownership experience.
For business owners there is the obvious attraction of low benefit in kind rates on Electric cars (see here).