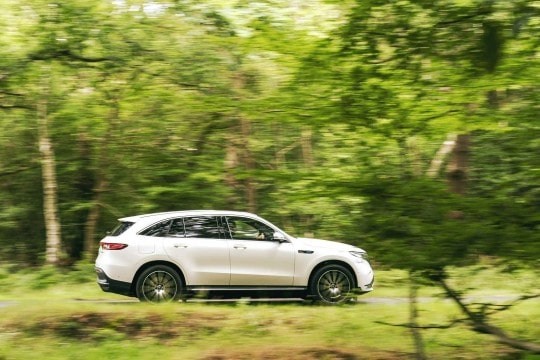 C-CHANGE
The Mercedes-Benz EQC represents Mercedes' first serious foray into the full-EV market and as we recently shared there is a lot of new competition so how does it stack up?
Ten Second Review
The Mercedes-Benz EQC is a large luxury crossover SUV that's fully electric but it's very much a product typical of the Three Pointed Star.
It's extremely class-competitive in terms of things like driving range, cabin practicality and charging time replenishment.
And arguably segment leading in terms of interior finish and driving refinement.
Background
As the biggest premium automotive brand in the world, Mercedes has been a little slow off the mark when it comes to full-electric technology. A decade ago, an 'E-Cell' version of the A-Class was piloted with a few buyers; a few years on from that, there was a battery-powered version of the old MK2 model B-Class co-developed with Tesla; and there have been various battery-powered smart models.
That's been about it though, for full-EVs from the Three-Pointed Star. Until the launch in the Spring 2018 of this EQC Crossover. It's directly aimed at three arch-rivals, the Audi e-tron, the BMW iX3 and the Jaguar I-PACE. How does it stack up? Let's find out.
Driving Experience
The EQC's 80kWh battery is of slightly lower capacity than the one you'll find in either of its two biggest rivals, the Jaguar I-PACE and the Audi e-tron quattro 55, but it doesn't affect the eagerness of this car's drive dynamics in comparison to these key competitors, thanks to a slightly greater torque output. Because this Mercedes is lighter than the Audi, the EQC can also slightly improve upon that Ingolstadt model's total potential driving range, managing a potential 259 mile WLTP-rated figure that's 10 miles higher (Emissions Free Range)
On the move, all electric vehicles are of course very quiet, but this one is particularly silent, Mercedes having taken great trouble to reduce the levels of road and tyre roar that always become more evident at the wheel of any EV.
There's plenty to get to grips with if you're to make the most of the EQC driving experience. There are five driving modes ('Comfort', 'Sport', 'Eco', 'Individual' and 'Maximum range'); and five different battery regeneration programs (the latter selectable via paddles behind the steering wheel). There's also an 'auto' regeneration mode that uses the car's speed limit detection, navigation systems and radar cruise control to blend the regenerative braking of the electric motors up and down automatically.
Switch to 'Sport' and it's certainly quick, thanks to a 408hp total output and 765Nm of torque. As a result, 62mph from rest occupies just 5.1s, but the top speed is limited to 111mph.
Design and Build
Size-wise, the EQC sits between the Mercedes brand's mid-sized GLC and large GLE SUV models. It shares most with the GLC, though is 100mm longer but, like its main European rivals, can only take two rows of seats. Though the outward styling may be somewhat generic, the car is more recognisable as a Benz when you take a seat within. The brand's usual twin widescreen dashboard displays feature again here.
In addition, there are a few fresh design details, some extra ambient lighting features, some eco-orientated trimming materials, plus of course you get a range of EV-specific displays.
There's a significantly higher-set driving position than you get in, say, a Jaguar I-PACE, which helps with all-round visibility. And there's the neat MBUX Mercedes infotainment system with its clever "Hey Mercedes" voice-controlled functionality, though it's very far from being infallible. In the rear, it's reasonably spacious, though headroom isn't helped by the raised floor (necessary to accommodate the large battery pack beneath) and what is a relatively low roofline for a family-shaped SUV.
There's a 500-litre boot out back, which is reasonably large by class standards, but some way off the 660-litre trunk size of an Audi e-tron. It's easy to fold the 40:20:40-split rear bench.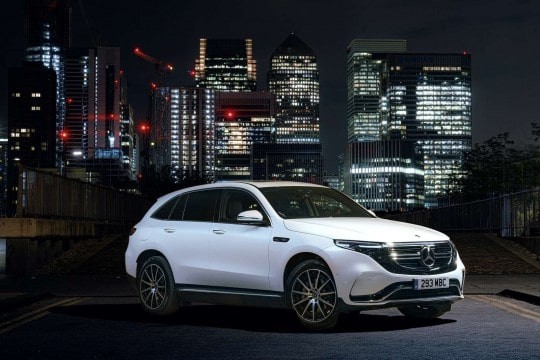 Market and Model
There's a single 'EQC 400' package on offer at present, but it's available in six different trim packages at prices starting at just under £66,500 and range to just under £80,000. The spec options start at 'Sport' and range through 'AMG Line', 'AMG Line Premium', 'AMG Line Premium Plus' to 'Edition 1' and 'Edition 1886'.
Even base 'Sport' models come as standard with Multibeam LED Headlights, 19-inch five-twin-spoke alloy wheels and Active Parking Assist with a reversing camera. Inside, there's a 10.25-inch touchscreen media display and instrument cluster, a Seat Comfort package with electro-pneumatic four-way lumbar support for the front heated chairs, plus you get ambient lighting with a choice of 64 colours. Blind Spot Assist and a Keyless-Go Comfort keyless-entry package also feature.
The various 'AMG Line' trims add an AMG black panel radiator grille in a twin-blade design, running boards, 20-inch multi-spoke AMG alloy wheels, an AMG front apron in a jet-wing design, plus chrome and high-gloss black-trimmed air inlets high-gloss black. Inside at this level, there are AMG sport seats in leather upholstery, along with carbon fibre trim. Ritzier versions add niceties like a surround view camera system, a wireless charging mat, a powered sliding roof, leather upholstery and a premium Burmester sound system.
Cost of Ownership
Much of the secret when it comes to creating the ideal luxury EV lies in the delicate balance between battery capacity and weight. The EQC's 80kWh battery is larger than that of a BMW iX3 (70kWh) but smaller than that of a Jaguar I-PACE (90kWh) or an Audi e-tron quattro 55 (95kWh) but you'll be pleased to know there are a multitude of cheapr car leasing options out there especially for Fleet operators or those looking for a great deal on a Business Contract Hire Lease.
The EQC's WLTP-rated 259 mile operating (Emissions Free Range) compares well to those rivals. Measured under the same WLTP cycle, an iX3 goes 249 miles (Emissions Free Range) and an e-tron 55 just 241 miles (Emissions Free Range), though the I-PACE manages a 292 mile (Emissions Free Range) reading thanks to its slightly lighter weight.
As for the Tesla Model X, well at the time of this test, the most comparably-priced 'Standard range' version of that car could go just 230 miles, but Tesla mostly focuses on the 'Long range' 100kWh versions of this design, which can go up to 315 miles.
As usual with an EV, steering wheel paddles help you vary brake energy regenerative harvesting and there's a selectable 'Maximum Range' driving mode too. To further help you maximise distance you can travel on a single charge in this Mercedes, the EQC's MBUX multimedia system has numerous EQ-specific functions, such as range display, charge status and energy flow. EQ-optimised navigation can also be set via MBUX, which bases its calculation on the fastest route taking into account the shortest charging time.
It also informs the driver of nearby charging points. When you're charging the car from a typical 7.4kW garage-mounted wallbox, you'll need around 11 hours to fully replenish it from empty.
Summary
It's fortunate for Mercedes that its premium brand rivals have been equally tardy about joining the EV revolution. Can they provide a better large electrically powered luxury SUV than this one? After trying an EQC, you might decide not. It might not be as boldly innovative as, say, a Jaguar I-PACE or a Tesla Model X, but in some ways, it's a more appealing package.
After all, you get a nicer cabin than the Jag offers and better build quality than is found in the Tesla. And both of the other two key contenders in this segment (the BMW iX3 and the Audi e-tron) offer a shorter potential operating range.
So the EQC looks like a very complete package. It doesn't have the handling prowess of an I-PACE or the streetside wow factor of a Model X but you might think this Merc to be an arguably more complete product than both these two rivals. Just as perhaps you expected it to be.
Use the search tool on our website to help you to choose an EV vehicle that meets your leasing requirements or feel free to contact us and we'll be happy to help.
If you have any questions or just want to now more about your Electric Vehicle Leasing Options then call LetsTalk Leasing on 0330 056 3331 to discuss your options with our team of friendly advisors.
Alternatively, you can request a call back, or email us at contact@letstalkleasing.co.uk or fill in our online contact form and we'll be in touch as soon as possible.